The late Anthony Bourdain once described Chicago as the only true metropolis left in the world [outside of his native New York]. Bourdain loved Chicago, for good reason. In his 2016 trip to our wonderful city for Parts Unknown, he narrated in his opening monologue: "Chicago is a town, a city that doesn't ever have to measure itself against any other city. Other places have to measure themselves against it. It's big, it's outgoing, it's tough, it's opinionated, and everybody's got a story." 
This is Wolfpoint Chicago's story.
Wolfpoint is the boutique Chicago-based watch brand built for the modern Chicagoan. The brand's mission from the beginning was to create a quality watch that captures the rich history and style of its founding city. Like the hands on an immaculately crafted Wolfpoint watch, the modern Chicagoan moves inch by inch, more determined to make their mark on this city. It's a place that has always understood that less is more and Wolfpoint embodies that in spades. 
It's apparent in every detail. From the iconic color blue on the face on the popular Fort Dearborn style to the crescent moon designed into the face of their mega-popular Chicago Moon, paying homage to the famous Cloud Gate (otherwise known colloquially as The Bean) in Millenium Park. The founder of Wolfpoint takes great pride in the little details, down to the Wolfpoint logo, which mimics the three branches of the Chicago River that meet just off the Merchandise Mart and is etched into each piece. It's as iconic as the Chicago flag itself—as it waves proudly boasting the three white bands that stand for the north, west and south sides of the city, while the blue stripes are symbolic of the city's important bodies of water. The top blue band represents Lake Michigan and the north branch of the Chicago River. Representing Chicago is less of an anecdote as it is a personality trait and that pride radiates in everything Wolfpoint does.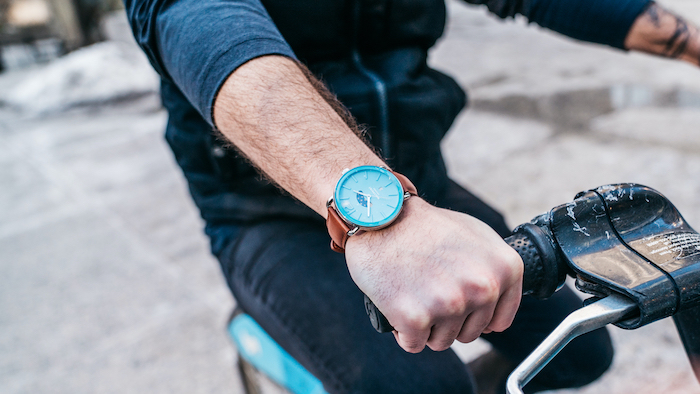 The company's website highlights the significance of Wolf Point to the history of Chicago. The first school was constructed there. As was the first bar, church, and other various commercial buildings integral to growth in Chicago's early stages. And now, proudly, is also where the first Chicago watch was built.
Whether you're walking from Union Station throughout the Loop during rush hour, taking the Red Line north towards Wrigley Field, or enjoying a lovely weekend afternoon in Union Park, you need Wolfpoint. It's your guide. Because when you wear a Wolfpoint watch you're saying something you simply cannot with any other timepiece. You're saying I'm from Chicago and I'm proudly here to change the game.
Because for Chicago's young professional, moving throughout the chaotic work week is daunting enough. The comfort and confidence a quality timepiece can provide is simply indescribable. So, whether you branch North towards Goose Island, South towards Chinatown, or East toward Lake Michigan, do so with Wolfpoint embracing your wrist.
I've been in this city for 31 years now. In fact, I share a birthday with Chicago. My family has been rooted here for more than a century. I take great pride in the people, profession, and product this city has a produced around me for three decades. Celebrate the city you call home by flashing a quality-crafted, minimalist, watch that supports local to boot.
After all, there's no rule that says the City of Big Shoulders can't also be the City of Pristine Wrists.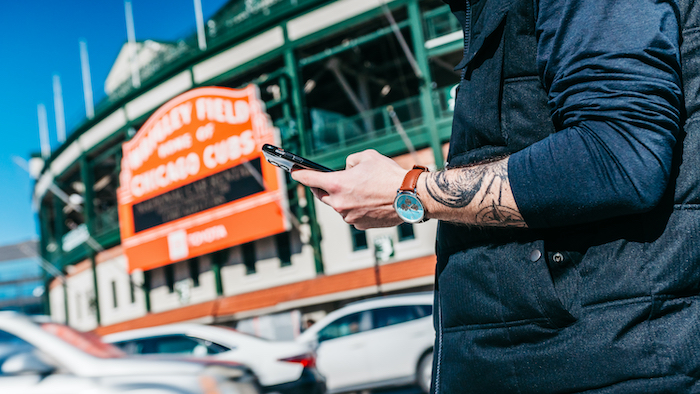 Learn more about Wolfpoint Chicago by heading to their website and discovering which piece of Chicago you want to wear on your wrist.
Editor's Note: Stay tuned throughout the month of March for a special giveaway on UrbanMatter Chicago! We've teamed up with Wolfpoint Co. to give one lucky Chicagoan a beautiful Chicago Moon time piece and two (2) tickets to a future Chicago Cubs game at Wrigley Field! Details to come, but it's better to be safe than sorry so head to Instagram right now and follow both UM Chicago & Wolfpoint Watches to ensure you don't miss out on the Chicago crossover event of the century!