Super Bowl is right around the corner. Have you decided where to go for the big game day? Lucky for us football fans, Chicago has some of the best sports bars to offer — and they're always generous when it's Super Bowl season! So, if you're trying to decide where to watch Super Bowl in Chicago this year, check out our top picks. Most of these places are offering Super Bowl specials. Some are even doing tailgate parties. So, explore your options and have a blast!
1510 N Wells St, Chicago, IL 60610
WHEN: 5:00 p.m. – End of the game
Located in the heart of Old Town, Benchmark is a convertible beer garden offering a lively sports atmosphere in an industrial-chic space. 40 TVs span across the concept with a great game day menu for shareable snacks, burgers, pizza and more!
$40 package includes:
Call Drink Package
One Food Menu Item
3647 N Clark St, Chicago, IL 60613
Tailgate Party: 5:00 – 9:00 PM
Located next door to historic Wrigley Field at Gallagher Way, the Budweiser Brickhouse Tavern offers an elevated dining experience with expansive bars, two outdoor terraces, and stunning views of Wrigley Field and the Chicago skyline.
$20 ticket includes:
All-You-Can-Eat Buffet: pizza station, classic mini sliders, taco & tatcho (tater-tot nachos) and build-your-own hotdog station
Premium seating + surprise giveaways
Drink specials: $15 buckets of 12oz Budweiser, Bud Light, or Michelob Ultra + $5 Trop Bombs or Lemon Drops
Purchase your tickets at BrickhouseTavernChi.com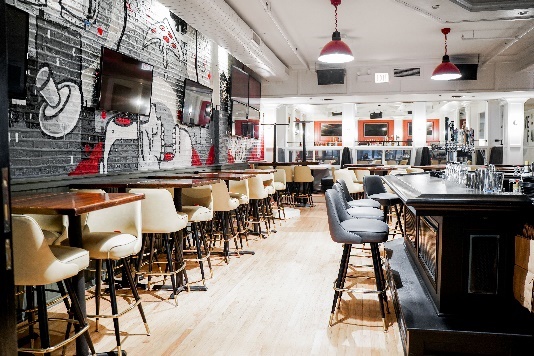 1925 N Lincoln Ave, Chicago, IL 60614
1326 W Madison St, Chicago, IL 60607
The Lincoln Park favorite known for its pizza is perfect to catch any game, as it has 27 TVs throughout the fluid indoor and outdoor space.
Specials include:
$6 Stadium Cups: Coors Light, Bud Light & Miller Light
$25 Hard Seltzer Buckets
$12 Two Topping Pizzas
Reserve your table at RanallisLincolnPark.com
The Big Game Platters
Pre-order all your favorite Ranalli's dishes to enjoy at home
Chicken Tenders (24) – $75
Chicken Wings (24) – $50
Garlic Knots (24) – $30
Crispy Cheese Curds (75) – $45
Toasted Bolognese Ravioli (24) – $50
Mini Burgers (24) – $50
Family Salads (Italian, Kale, Caesar, Garden or Greek) – $14
Add all the ranch you could handle – it's on the house!
Email Ana@4Cbars.com to order.
Chef Doug Psaltis and Andros Taverna are changing up takeout on Chicago's best authentic Greek menu to celebrate this year's Super Bowl by offering Charcoal Grilled Greek Wings on Sunday, February 13.
Chef Doug's Charcoal Grilled Greek Wings ($18p dozen) are slowly grilled over roasting embers and will come served with spicy yogurt and greek fries. Wings will only be available to pre-order by the dozen a la carte through Tock, GrubHub and ChowNow on Gameday. Chef Doug will also release his Spanakopita and Artichoke Dip ($16), which comes served with pita crisp, his Spreads Party Pack ($39) featuring three Andros spreads along with pita crisps and cruidités of vegetable and Andros' Olympia Fries ($10), which come topped with hand-cut gyro, tzatziki and cheese.
2200 N California Ave, Chicago, IL 60647
Bring home the best charcuterie and cheeses in Chicago on Super Bowl Sunday with Lardon's Charcuterie and Cheese Boards! With three size options available to enjoy from your couch, pre-order yours for weekend pickups. Lardon offers 1-2, 3-4 and 6-8 person Charcuterie and Cheese Boards for your party, and the cutoff for ordering will always be 5 pm the day before pickup. Orders can be made through Lardon's Tock.
205 N Peoria St, Chicago, IL 60607
Is there a better trio than pizza, beer, and football? What better place to celebrate all three than at PB&J's where large parties are welcome and cheering is encouraged. Reserve your section today with no minimums and no deposit required and come and enjoy the best game of the year with delicious food and drinks flowing all game long. Even though it won't be the Chicago Bears, PB&J's in Chicago's West Loop will be partying all Super Bowl night long.
838 W Kinzie St, Chicago, IL 60642
Recess is the ultimate destination for NFL game days and the streak continues for NFL Playoffs and Super Bowl Sunday. Recess offers the Beer Down NFL Promotion throughout the playoffs and Super Bowl Sunday, which features food and drink specials all Game Day long.
Football fans can chow down on Slider Towers and a la carte Sliders, wash it down with Daaa Beers import and domestic buckets, as well as slurp specialty Large Format boozy cocktails made for Super Bowl Sunday. Fans can also get a High Life and a shot of Tullamore Dew for $10. Learn more about Recess Game Day specials by visiting www.chicagoinrecess.com.
221 N Columbus Dr, Chicago, IL 60601
Known for its wood-fired cooking and menu featuring the Midwest's best meat, freshwater fish, and produce, FireLake is a great place to watch the game while enjoying delicious food and fun cocktails.
Order shareable items, such as the 2lb pretzel with beer cheese dipping sauce or the smoked whole bone-in wings with fried pickles for the first half and indulge in the Taste of FireLake which includes Coffee Rubbed Smoked Brisket, Rotisserie Chicken with Potato Salad, Smoked Ribs, Charred Sweet Corn Skillet Cornbread post halftime.
If ribs are the way to your heart, don't leave without ordering a half or full slab of Calabrian Smoked Pork Ribs with fennel potato salad, skillet cornbread. In addition, a special Superbowl brunch will take place in Upper FireLake for $52 per person and includes mimosas. Make a reservation online or by calling (312) 477-0234.
Superbowl Takeouts in Chicago
Prefer to stay at home? Don't worry. We've got you covered with the best SuperBowl catering and takeout options in Chicago as well! Grab your phone and get ready to call or place a reservation online! It's the one weekend we can indulge and forget all about diet or New Year's resolution!
1200 W Webster Ave, Chicago, IL 60614
Make Super Bowl Sunday the ultimate fiesta at home with Old Pueblo Cantina's catering menu and takeout offerings. Guests can choose from a variety of offerings including Chips and homemade Guacamole, OPC's famous Cheese Crisps, Taco Platter Kits, and more.
1146 Wilmette Ave, Wilmette, IL 60091
Heading to the suburbs for the big game? Sophia Steak has got you and guests covered with their to-go family-style meals. Diners can choose from their choice of an entree that serves up to four guests, two large-format salads, appetizers, and sides. Each order comes with 2 oz cocktail kits from the bar.
500 W Madison St, Chicago, IL 60661
Famous for their award-winning Southern fried chicken sandwiches, Boxcar Betty's has Super Bowl grub taken care of with their loaded sandwich boxes. Each box comes with 10 individually wrapped mouthwatering sandwiches for you and your friends to chow down on and root on your team.
With sandwich options like the signature Boxcar, Chicken Not So Waffle, Buffalo, The Betty, or a build your own option, every base is covered. Plus, add on delicious sides like hand-cut fries, fried pickles, peach coleslaw, and more for the ultimate Super Bowl feast. Orders for carryout are available by placing an order online or calling the Bucktown location.
Various locations
Looking for a delicious and simple local option for game day? Look no further than Hannah's Bretzel.
The local sandwich chain features healthy, natural, and organic ingredients in their made-from-scratch sandwiches and has catering options for parties of six or more. Try the Sandwich Tray with your selection of whole baguette sandwiches cut in half served with locally made salt+pepper house chips. Upgrade the tray to include salad and dessert and the package will include a freshly baked dessert box with organic quinoa blondies, triple chocolate brownies and organic chocolate chip cookies, and your choice of a freshly prepared side salad.
Visit the website or call your nearest location of Hannah's Bretzel to place your order.
845 W Washington Blvd, Chicago, IL 60607
Are you the type to prepare a game-changing spread for the Super Bowl as opposed to ordering out? El Che Steakhouse & Bar has you covered with its retail market, El Che Meat & Provisions.
The indy shop sells USDA premium Black Angus Beef from Creekstone Farms, South American wines, artisanal ingredients and more to help you prepare a game day feast. Grill Kits like the Parrillada Meal for 4 or the Ultimate Steak Box feature signature cuts of meat like short ribs, chorizo links and ribeyes alongside craft ingredients like chimichurri and salsa criolla, making them the perfect pre-assembled option to make for your Super Bowl party. Items are available for purchase online here or directly at the shop located inside the restaurant at 845 W Washington Blvd.
41 E Superior St, Chicago, IL 60611
Check out the delicious package put together by Jake Melnick's Corner Tap, and never look elsewhere for your Superbowl meal. Pre-orders until 5 p.m. on Feb. 12. Here are the details.
Packages include:
Pizza and Wings ($70) – Feeds 3-4 people
Jake's Famous Detroit pizza and two dozen wings

Tailgate Tray ($75) – Feeds 3-4 people
Full slab of ribs, 1/2 lb brisket, 1/2 lb pulled pork, one dozen slider buns, pickles, coleslaw, BBQ sauce
Ultimate Starter ($58) – Feeds 8-10 people
Biggie soft pretzel (cheese sauce and mustard), spinach dip, Buffalo chicken dip, homemade crispy French onion dip, pimento cheese, fresh tortilla chips, and homemade potato chips

Chili Cheese Poutine ($35) – Feeds 5-6 people
Double order of fresh fries or tater tots, cheese curds, pint of Smokehouse chili, Jake's famous cheese sauce, additional brisket or pork available a la carte
5 Dozen Wings ($140) – Feeds 8-10 people
Choice of five sauces
The Champion ($250) – Feeds 12-15 people
4 dozen wings, choice of four sauces, full slab of ribs, 1/2 lb brisket, 1/2 lb pulled pork, one dozen slider buns, pickles, coleslaw, BBQ sauce, mac and cheese/
Add on items include: 1/2 lb brisket or pork ($15), 2 hot links ($12), 1/2 lb rib tips ($12.50), 1/2 lb burnt ends ($15), dozen wings ($15), dozen slider buns ($8), 1/2 pint of sauce ($15), a pint of coleslaw ($15), giant pretzel ($20), half pan of mac & cheese ($35), tater tots ($10), pint of Smokehouse chili ($10), crispy onions ($6), fresh bacon bits ($9), cookie, brownie and rice krispy treat tray ($28).
Pickup and delivery pre-orders can be placed on Tock here. All orders must be placed by 5 pm on Saturday, February 12th.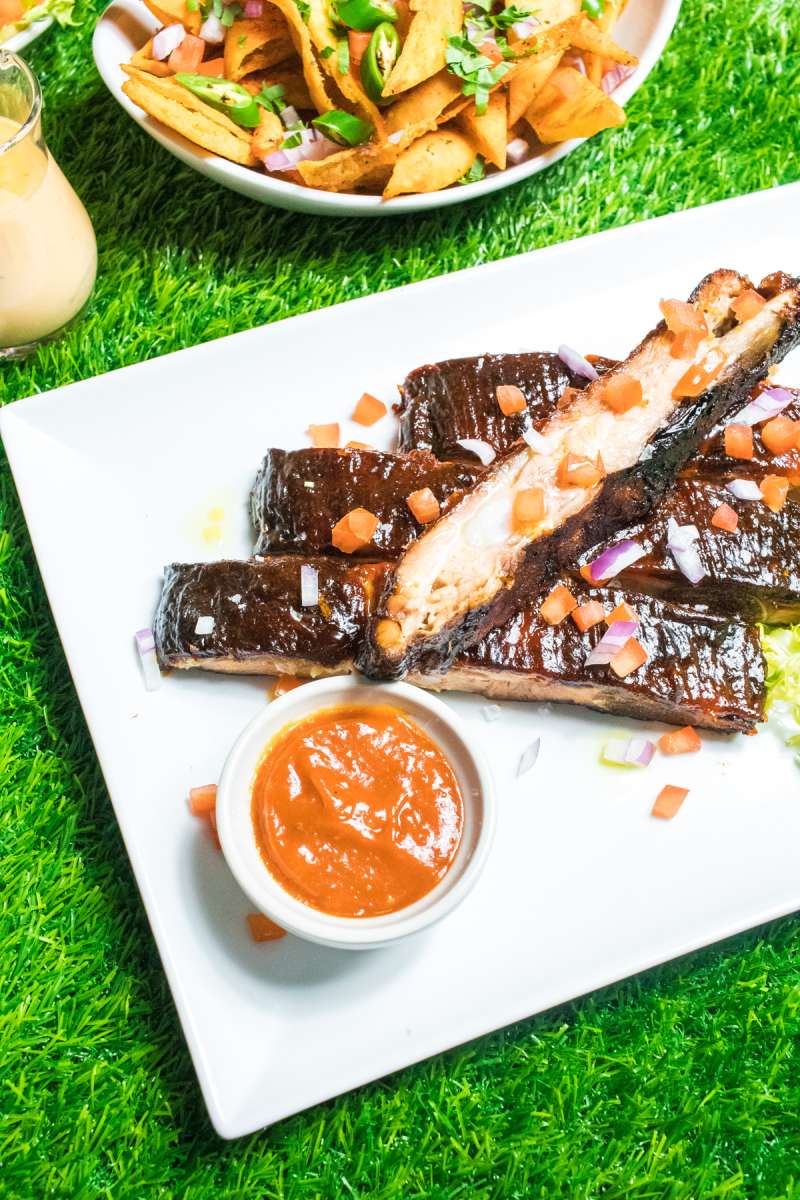 Multiple Locations
Enjoy American favorites with a contemporary Greek twist available for pick-up on Sunday, February 13th. Avil's Super Bowl Sunday To-Go package includes
1lb Coleslaw ($10)
Full Slab of Ribs ($28)
Half Slab of Ribs ($16)
Dozen Wings ($28)
Dozen Mini Pork Skewers ($30)
Place your order on Tock for Avli River North, Avli Taverna Lincoln Park, or Avli on the Park.
Featured Image Credit: Jake Melnick's Corner Tap