There's something iconic about soft serve ice cream. It's the sweet treat of summer that makes cold Chicago winters worth it. It's the cap to a long day at the beach and the perfect dessert to round out savory summer BBQs. Simply put, buttery smooth and rich, soft serve ice cream is the perfect dessert to enjoy after a long day in the warm, summer sun and in Chicago there are a ton of incredible places serving up some of the best soft serve money can buy. 
Sure Ben & Jerry's is fire, but put away the pint, don't even bother dealing with McDonald's ice cream machine and head to one of these 6 spots around Chicago for the best possible soft serve to round out your warm summer day.
3472 W Devon Ave, Lincolnwood, IL 60712
A staple on the Northwest side of Chicago, there is no soft serve quite like Dairy Star. The shop's founders converted what was previously a Dairy Queen into the place we know and love today. For 37 years, Dairy Star has been serving some of the best soft serve in three iconic flavors: vanilla, chocolate, and strawberry. While these might seem typical, the amount of toppings and mix-in to choose from is what really separates Dairy Star from the rest. Get your cone rolled in Reese's pieces, dipped in butterscotch, or indulge in a loaded "Star" split. Any choice you make at Dairy Star is going to be a good one. 
2815 W Armitage Ave, Chicago, IL 60647
Char-grilled burgers, chili fries, and a hand-spun milkshake; this is the meal we've been waiting for. At The Freeze in Logan Square, creamy, decadent soft serve has been dished out since 1950, and the community keeps coming back for more! Besides the classic cone, you can also order sundaes, parfaits, malts, and floats. Here, you won't only find a variety of soft serve flavors and concoctions, but also your favorite grilled items. Chicken, hot dogs, and ribeye steaks make up the food menu, but we're sure that you won't forget to grab dessert when you stop at The Freeze. 
1159 W Taylor St, Chicago, IL 60607
1632 W Division St, Chicago, IL 60622
When you're looking for a twist on a classic dessert, check out Kurimu. With two locations, Wicker Park and UIC, a trip to Kurimu is closer than you think. The flavors on the menu here are always rotating, which makes the trip even more exciting. Some past flavors include pineapple, banana, cereal milk, and Thai iced tea. Kurimu has also partnered with another Chicago favorite, Aya Pastry, to bring patrons exciting desserts and styles of soft serve. Kurimu is not only a must-visit on your summer bucket list, but definitely one to watch. We fully expect we'll be seeing new locations pop up all over Chicagoland!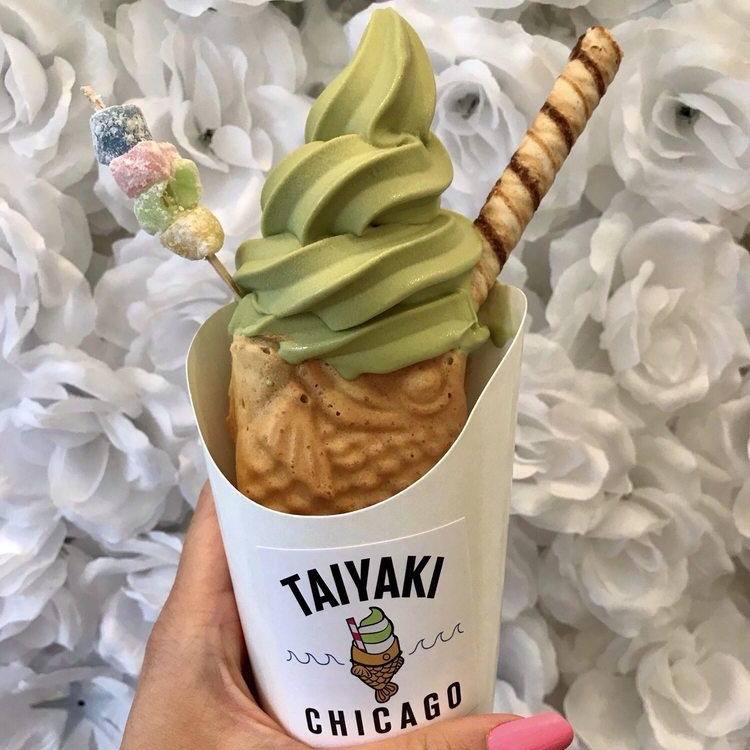 2618 N Clark St, Chicago, IL 60614
Taiyaki is a traditional dessert in Japan, which translates to "fried fish". Traditionally, a Taiyaki comes with red bean paste filling and is a delicious hot treat. But at Taiyaki Chicago, they are used as cones, topped with delicious soft serve ice cream. Taiyaki's standard flavors include vanilla, milk tea, chocolate, and matcha (our favorite!). They also have rotating daily flavors if you are looking for a tasty surprise. Choose your taiyaki filling, your ice cream flavor, then add some fancy toppings, and you'll have yourself a one-of-a-kind Taiyaki soft serve only found in Chicago!
2009 N Bissell St, Chicago, IL 60614
If you know anything about Annette's, it's probably about their mouthwatering, homemade Italian Ice. But, did you know they also offer soft serve? Whether it's in a cup or a cone, you have endless options of toppings to add to your dish.  From waffle cone chips to crushed Oreos to fresh strawberries, at Annette's you're able to take your dessert to the next level. When you want to mix desserts, you can also add a few swirls of soft serve to your favorite Italian Ice flavors for creamier take on a classic Italian treat. 
1436 W Blackhawk St, Chicago, IL 60642
Everyone should be able to enjoy soft serve ice cream, and at Vaca's Vegan Creamery, that's just what you get. While traditional ice cream recipes call for full-fat milk, cream, and dry milk powder, Vaca's Creamery's ice creams are made with oat milk. Oat milk, a non-dairy, vegan-friendly alternative to cow's milk is known for its creamy and savory flavors, making it the perfect substitution for regular milk. At Vaca's, you'll find the soft serve in two flavors: chocolate and vanilla. To add some excitement to your visit, try out one of their signature sundaes, available in chocolate-y s'mores or Cosmic Cake. 
1047 W Madison St, Chicago, IL 60607
At Cone Gourmet Ice Cream in the West Loop, the options for how you style your soft serve are endless. Being the only ice cream shop in Chicago with "an Irish flair", you can be sure that anything you sink your teeth into will be unique and delicious. Looking for something a little different? Try the Cone O'Flakes, tasty vanilla soft serve served with a decadent, crumbly Irish chocolate Flake bar. For a fun take on everyone's favorite cereal, try the Shamrock. Soft serve ice cream smothered in Lucky Charms, you truly cannot go wrong.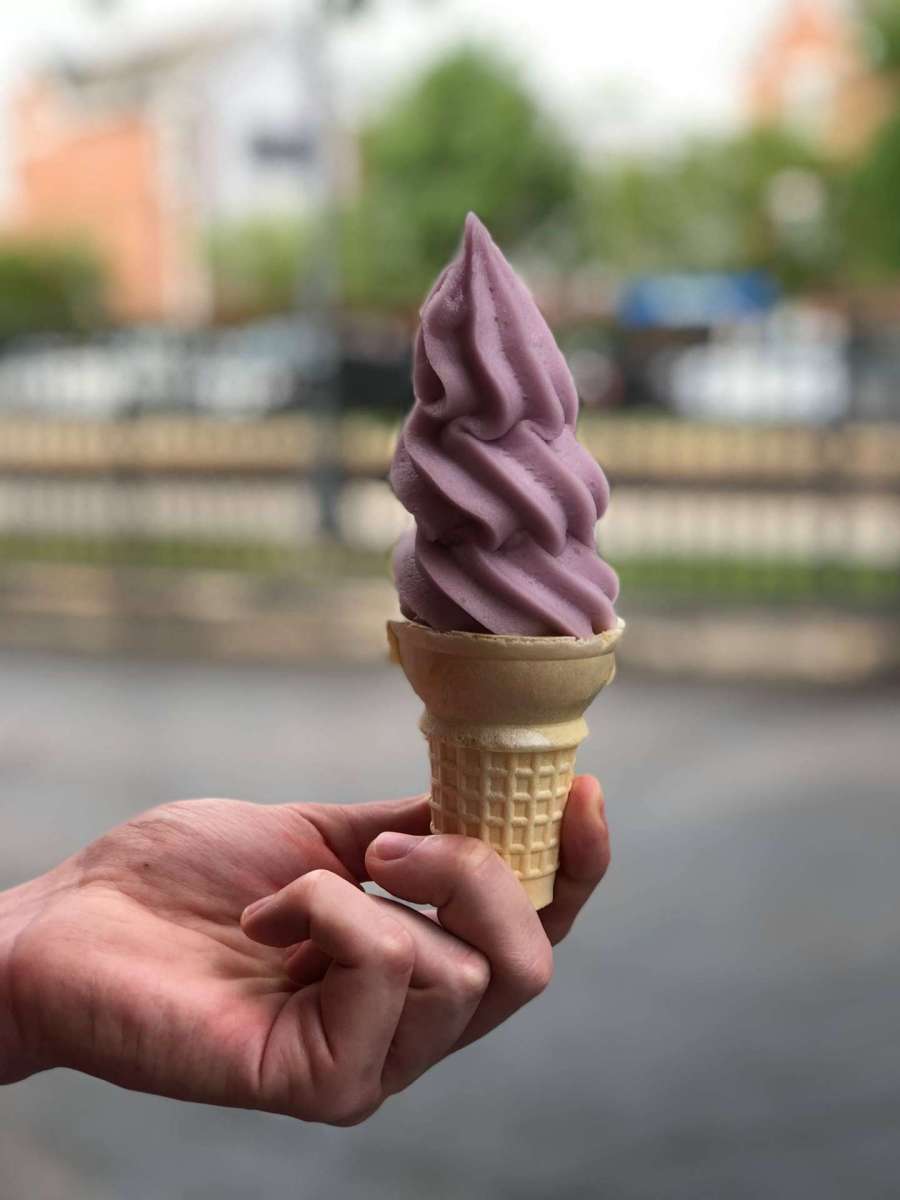 1015 Lehigh Ave, Glenview, IL 60025
If you are looking for a good soft serving spot in the near suburbs close to North Shore, check out Glenview Dairy Bar. This little ice cream shop has been here since 1955 and is an absolute neighborhood favorite. They have everything from soft serve to floats, shakes, and Boston shakes, as well as a list of special treats including the classic banana split!
Featured Image: Kurimu x Peanuts