To celebrate Indigenous Peoples' Day, we've assembled a reading list highlighting the lives of Indigenous individuals and the history of their communities that have lived in the Americas for thousands of years. With these books, you can honor the story of a Canadian Indian residential school survivor, face our nation's troubled archaeological history, explore hundreds of pieces crafted by Indigenous artists featured at the Denver Art Museum, and much more.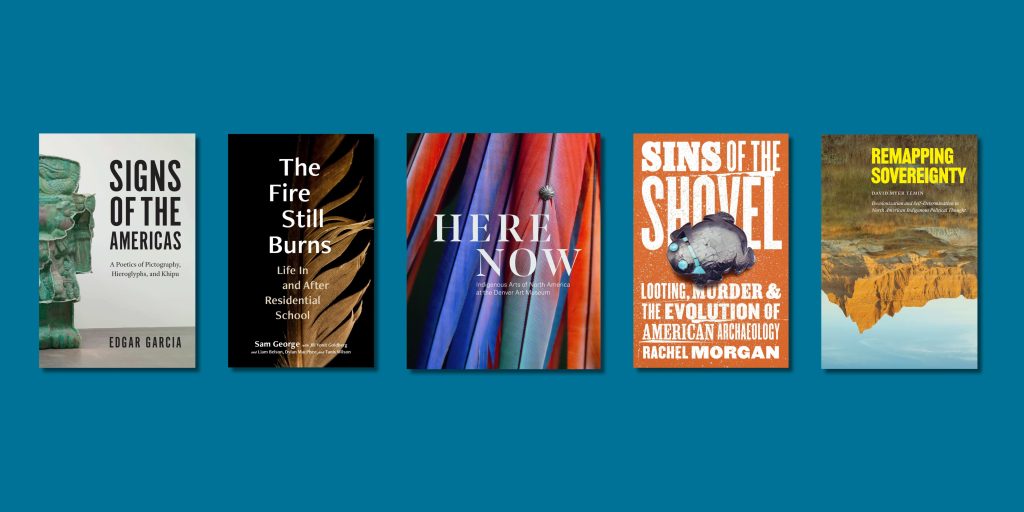 Signs of the Americas: A Poetics of Pictography, Hieroglyphs, and Khipu
By Edgar Garcia
"In Signs of the Americas, Garcia sets sparks flying by inviting us to explore the literature and theory created by 20th and 21st century writers who deploy sign systems that, according to the creation myth of European hegemony, alphabetized thought supposedly superseded and destroyed. . . . Signs of the Americas not only pries open a fascinating archive but also forces us to question the organizational principles that govern intellectual history and cultural criticism in this hemisphere." –New Books Network
Sins of the Shovel: Looting, Murder and the Evolution of American Archaeology
By Rachel Morgan
"An insightful examination of the colorful and controversial history of American archaeology. . . This animated account combines the saga of hardscrabble cowboy archaeologists with serious reflection on the incalculable damage of their activities. It's an entertaining and informative study." –Publishers Weekly
Remapping Sovereignty: Decolonization and Self-Determination in North American Indigenous Political Thought
By David Myer Temin
"Remapping Sovereignty places Indigenous anticolonial thought at the center of twentieth century global struggles over nation-state, political economy, and international order. Through a beautiful synthesis of political theory and history, Temin not only powerfully reconceives classic debates but he also demonstrates the essential conceptual importance of North American Indigenous arguments for making sense of the past and future of the decolonial project. The result is a truly innovative work of political reconstruction, with critical insights for both scholars and activists." –Aziz Rana, author of The Constitutional Bind
Cooperation without Submission: Indigenous Jurisdictions in Native Nation-US Engagements
By Justin B. Richland
"The true marvel of this book is its assertion of Indigenous sovereignty in the legal landscape, which Richland suggests is a key component in taking steps toward decolonization and as a way forward in Native Nation–US engagements predicated upon a more equitable relationship of reciprocity, respect, and understanding." –Great Plains Quarterly
From Hirmer Publishers:
Here, Now: Indigenous Arts of North America at the Denver Art Museum
Edited by John P. Lukavic, Dakota Hoska, and Christopher Patrello
"Here, Now offers a vibrant, culturally rooted glimpse into the continuity and innovation of Native American art. . . . Highly recommended." –Choice
From the University of British Columbia Press:
The Fire Still Burns: Life In and After Residential School
By Sam George
"For too long, Canadian history erased the story of Canada's Indian residential schools. Thanks to the efforts of Indigenous peoples and their allies, that shameful silence is being ended. . . . Sam George was a student who survived, although, as his powerful memoir The Fire Still Burns painfully illustrates, not without scars. . . . But he is also able to tell the story of how reconnecting with his Indigenous roots and culture helped him heal and become a loving, contributing elder in his community. He counsels on addiction and hears his grandchildren speaking the language he was beaten for. Cultural genocide has not triumphed." –The Vancouver Sun
The Slow Rush of Colonization: Spaces of Power in the Maritime Peninsula, 1680-1790
By Thomas Peace
This engaging history shows how overlapping concepts of space and power—shaped deeply by Indigenous agency and diplomacy—defined relationships in the eighteenth-century Maritime Peninsula and how, following the Seven Years' War, this history was brushed aside as settlers flooded into the Peninsula, laying the groundwork from which Canada and the United States would develop.
Life against States of Emergency: Revitalizing Treaty Relations from Attawapiskat
By Sarah Marie Wiebe
"Wiebe's book is rich, thoughtful, and wise. It centres Indigenous realities and theories, allowing readers to understand how the past informs the present, why representation matters, and how to move collectively toward an environmentally just future." –Jocelyn Thorpe, director of the Centre for Creative Writing and Oral Culture at the University of Manitoba
Upholding Indigenous Economic Relationships: Nehiyawak Narratives
By Shalene Wuttunee Jobin
"Beautifully written, Upholding Indigenous Economic Relationships is crucially important as a comprehensive exploration of Cree economic values told through story and oral history." –Glen Coulthard, author of Red Skin, White Masks: Rejecting the Colonial Politics of Recognition
Memory and Landscape: Indigenous Responses to a Changing North
Edited by Kenneth L. Pratt and Scott A. Heyes
Industrial development in the north has disrupted the environment and Indigenous livelihoods. Memory and Landscape explores how Indigenous peoples in the Arctic are adapting to such rapid change. In this beautifully illustrated volume, Indigenous and non-Indigenous contributors use oral history and scholarly research from disciplines such as linguistics, archaeology, and ethnohistory to reveal the complex ways communities in the north—Alaska, Canada, Greenland, and Siberia—strengthen their identities in the face of cultural disruption. The authors demonstrate why the resilience of Indigenous memory, marked in the land by place names and stories, must form the bedrock of Arctic studies.
Resistance and Recognition at Kitigan Zibi: Algonquin Culture and Politics in the Twentieth Century
By Dennis Leo Fisher
Resistance and Recognition at Kitigan Zibi tells the modern history of Kitigan Zibi, the largest and oldest Algonquin reserve in Canada. This local history sheds light on the larger experience of the Algonquin First Nations whose traditional lands span the Ottawa River watershed and cross contemporary boundaries.
From the University of Cincinnati Press:
Surviving the Americas: Garifuna Persistence from Nicaragua to New York City
By Serena Cosgrove, José Idiáquez, Leonard Joseph Bent, and Andrew Gorvetzian
"Surviving the Americas is a vivid and intimate account of the Nicaraguan Garifuna. The activist commitments and collaborative nature of the work as well as its decolonial lens provide keen insights into the persistence of this under-acknowledged Afro-Indigenous community in the Garifuna and African Diasporas." –Jennifer Goett, Associate Professor of Comparative Cultures and Politics, Michigan State University
---
Find these books on our website or at your favorite bookseller.