What's our favorite thing about Chicago's art scene? Its deep connection to our communities and how every artist and organization holds themselves accountable to spreading value, respect, and awareness whenever they get a chance. As Women's History Month unfolds, West Town Chamber of Commerce (WTCC) has partnered with one of Chicago's most established independent galleries, Arc Gallery, to transform its office into a multi-use exhibition space to host a women's empowerment show, "We've Been Doing It."
The month-long exhibition kicks off with a launch event on Friday, March 3, 2023, and will be co-presented by the Chamber and ARC Gallery, a longtime member of the Chamber, on the occasion of their 50th Chicago Anniversary. Further, "We've Been Doing It" will be co-curated by independent artists Missy Perkins, co-founder of Paint the City, and Michelle Traviesa, Chicago-based street artist and muralist, and will feature thirty diverse female-identifying and non-binary artists and their equally unique works.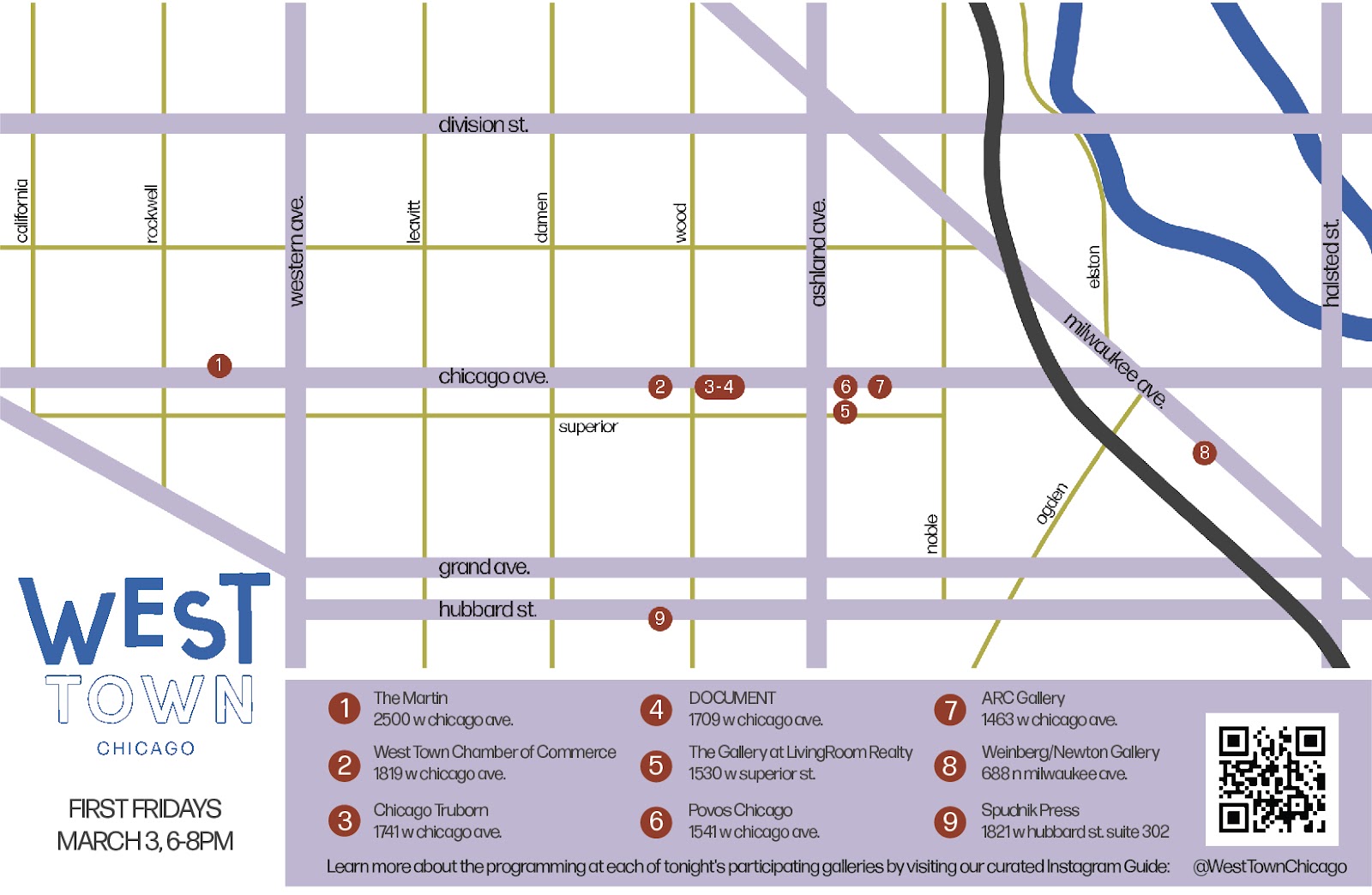 To coincide with the launch of the Chamber's "We've Been Doing it" exhibition, eight West Town galleries will also stay open late on Friday, March 3, 2023 for the season's inaugural First Friday event, allowing folx to explore West Town by means of a self-guided gallery walk and tour.
Participating galleries for the month of March are profiled below, including several female-led exhibitions in celebration of Women's History Month and in support of reproductive rights, as well as the official opening of West Town's newest gallery addition, Povos Chicago. Specific Exhibitions are listed below:
"no RAIN no RAINBOWS" by Nancy Bechtol
Arc Gallery, 1463 W Chicago Ave, Chicago, IL 60642
Located just a few blocks east of Chamber headquarters, ARC Gallery will open "no RAIN no RAINBOWS" on Friday, March 3, 2023–a self-curated solo show of works by Nancy Bechtol, who says, "Ideally, the pain the rain, the difficult times yield to the earned results, visionary colorful, kaleidoscopic lights of personal achievements. Past. Present. Future collides." Exhibition opportunities for innovative and emerging artists exist today to an extent unheard of for women 50 years ago, largely due to ARC Gallery's ongoing contributions to this movement since 1973.
"Monday is Red-Orange" by Jess Brooks continues, and other exhibitions
The Martin, 2500 W Chicago Ave, Chicago, IL 60622
The Martin is a queer, woman-owned business that prides itself in being an artist-first full service creative space. On Friday, March 3, 2023, The Martin will be open and showcasing its three current exhibitions for First Fridays: Jess Brooks's "Monday is Red-Orange;" "5&5," a spontaneous dual show featuring Sofia Citkov & Annie Irene Hejny; and Sally Traxler-Lavengood's "The Pantone Project," an all-female line-up that collectively celebrates color and play.
Solo exhibition, ceramic work by Liz Born
The Gallery at LivingRoom Realty, 1530 W Superior St, Chicago, IL 60642

On Friday, March 3, 2023, The Gallery at LivingRoom Realty is hosting an opening reception for the opening of their solo exhibition of new ceramic work by Liz Born. Approaching clay from a printmaking background, Liz uses bold marks and silk screen-transfers to create graphic surfaces on functional pieces like platters and coffee mugs. Liz will be donating 15% of sales to the Chicago Abortion Fund.
"Color Theory" printshop fundraiser
Spudnik Press, 1821 W Hubbard St Suite 302, Chicago, IL 60622
Spudnik Press is excited to invite everyone to a FUNdraising party on Friday, March 3 from 7pm-10pm. The event is going to be held at their printshop with the theme: Color Theory. Guests are invited to compete in our costume contest, dance to soundtracks crafted by live local DJs feral and teDb, shop a curated selection of prints from their archives, and document your look in the photo booth.
"For Those Without Choice"
Weinberg/Newton Gallery, 688 N Milwaukee Ave #101, Chicago, IL 60642
Join us for an evening of art and making in support of Reproductive Freedom. Explore their current exhibition "For Those Without Choice" presented in partnership with Planned Parenthood of Illinois, then make your own activist patches and pins. Weinberg/Newton Gallery Community Making Nights feature hands-on art making activities for all ages created and led by the WNG Education team. All materials will be provided, in addition to light refreshments and snacks.
1541 W Chicago Ave, Chicago, IL 60642
Opens Bloom, the inaugural exhibition in their new space, featuring works by more than 31 artists on the topic of spring as a season for rebirth and growth, both pictorially and symbolically. This is their inaugural show and first curatorial venture at a new location.
"Moon Tempo"
DOCUMENT, 1709 W Chicago Ave, Chicago, IL 60622
DOCUMENT is pleased to present Moon Tempo, an exhibition of new paintings by Meg Lipke. This is the gallery's first solo show with Lipke as well as her first gallery presentation in Chicago.
"Home Sweet Home" closing
Chicago Truborn, 1741 W Chicago Ave, Chicago, IL 60622
On Friday, March 3, 2023, Chicago Truborn, one of West Town's longest-standing galleries, will celebrate the closing of its successful first show of 2023, "Home Sweet Home", featuring 60+ works on thrifted and vintage items.
Featured Image: "Queen of Hearth" by Monica Brown/ARC Gallery