4.20 is right around the corner! And if you've guessed… Yup, here comes the 2022 version of the best stoner food in Chicago! If you want all the good stuff in one trip, be sure to check out Ravenswood's first Munch March. Otherwise, you can go from top to bottom on this list. Oh, also… We are absolutely not responsible for the weight you might gain in one day. You've done it to yourself, okay?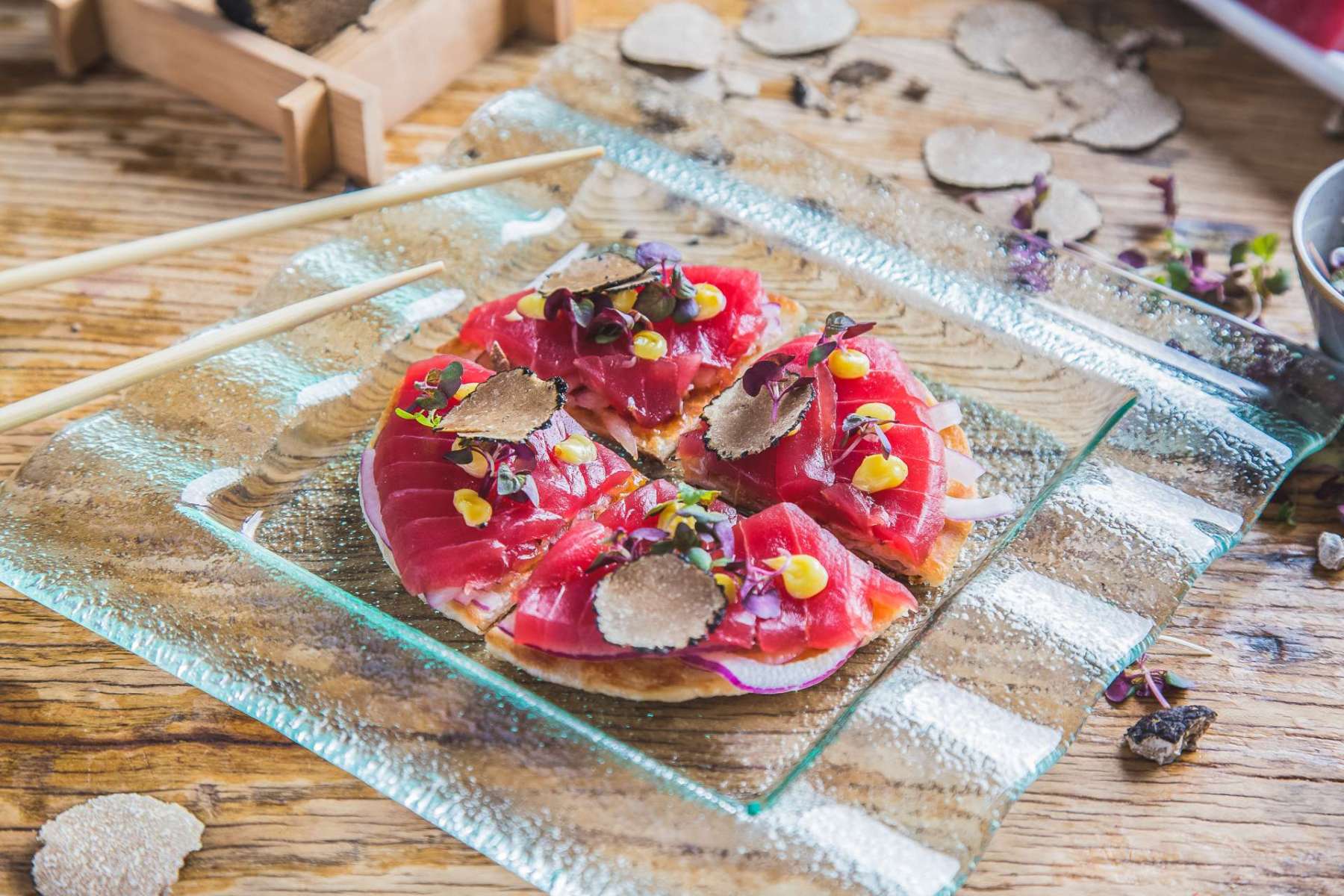 Tuna Truffle Pizza
110 W Illinois St, Chicago, IL 60654
Crispy thin crust pizza with tuna sashimi and truffle is the latest evolution in the pizza world. Sunda has never failed us with snacks and appetizers, but we've got to say… We think they outdid themselves this time. Alternatively, you can also try their Bulgogi Roti Tacos and Ridiculous ice cream. Or… you know what? Screw it. We are going to add the Tuna Crispy Rice to the order to and nobody is going to stop us.
The Challenge
All locations
Alright… we have accepted our defeat. There's no way we can handle The Epic AF Challenge, but hey, maybe you can? Basically, the idea is to finish two double Black Angus Beef Epic Burgers stacked with Bacon, Cheddar Cheese, Lettuce, Tomato, Pickles, Grilled Onions, and Epic Sauce served with a double order of Epic Fries, an order of Sweet Potato Fries, an order of Onion Rings, a 3 Piece order of Chicken Tenders and an Epic Shake within 20 minutes and 08 seconds — but they'll probably let you take the rest to-go.
We honestly can't think of a more epic stoner food in Chicago than this insanity.
Hot Cheetos Burger
You want to go crunchy, you gotta go with one of Chicago's hottest pop-up food concepts right now. Usually they have pop-ups on the weekends, so stay tuned to their Instagram for location and time announcements! The Hot Cheetos Burger is a must-try if you want that crunchy sensation in your mouth. They also have Hot Cheetos Burritos, but with all honesty, that one looks far more dangerous.
Giant Mozzy Stick
954 W Fulton Market St, Chicago, IL 60607
You'll have to see for yourself on this one since it's one of the newest items added to their menu. But let you in on some insider's tip… it's probably the perfect stoner food in Chicago for cheese lovers. That thing looked at least 12″ long and the fresh marinara sauce is just the perfect balance of sour and sweetness. Eat it while it's hot so you can play with the melty cheese! I mean… who doesn't play with their food when they're stoned?
Farm Chicken with Frites
837 W Fulton Market, Chicago, IL 60607
The Publican probably has the best chicken in our opinion. They're blackened perfectly, with some watering savory spices. The frites are done just right too — crispy on the outside but warm and soft on the inside. What more can a stoner ask for than such a comforting meal?
Lobster Mashed Potatoes/Mac & Cheese
444 N Wabash Ave, Chicago, IL 60611
Suppose Chicago's weather this April isn't completely worthless if it means we can still enjoy a big bowl of steamy lobster mac & cheese from Kitchen + Kocktails. The flavorful bowl with huge, juicy lobster bites would drive away whatever chilliness lingering in your bones, especially if you're already stoned.
Bomboloni Nutella
615 N State St, Chicago, IL 60654
Café Crèmerie has just opened, but it has already stolen our hearts with delicious desserts, gelatins, and beverages. This cozy European-inspired Café is the perfect place to bring some munches home for a stoned night in. Our favorites are the Bombolinis, which are fluffy, soft, fried Italian donuts. You can choose cream or Nutella fillings.
They also have Macaroons and dessert croissants if you'd prefer something crispier for the sound effect. But seriously, we think the Bomboloni is where it's at.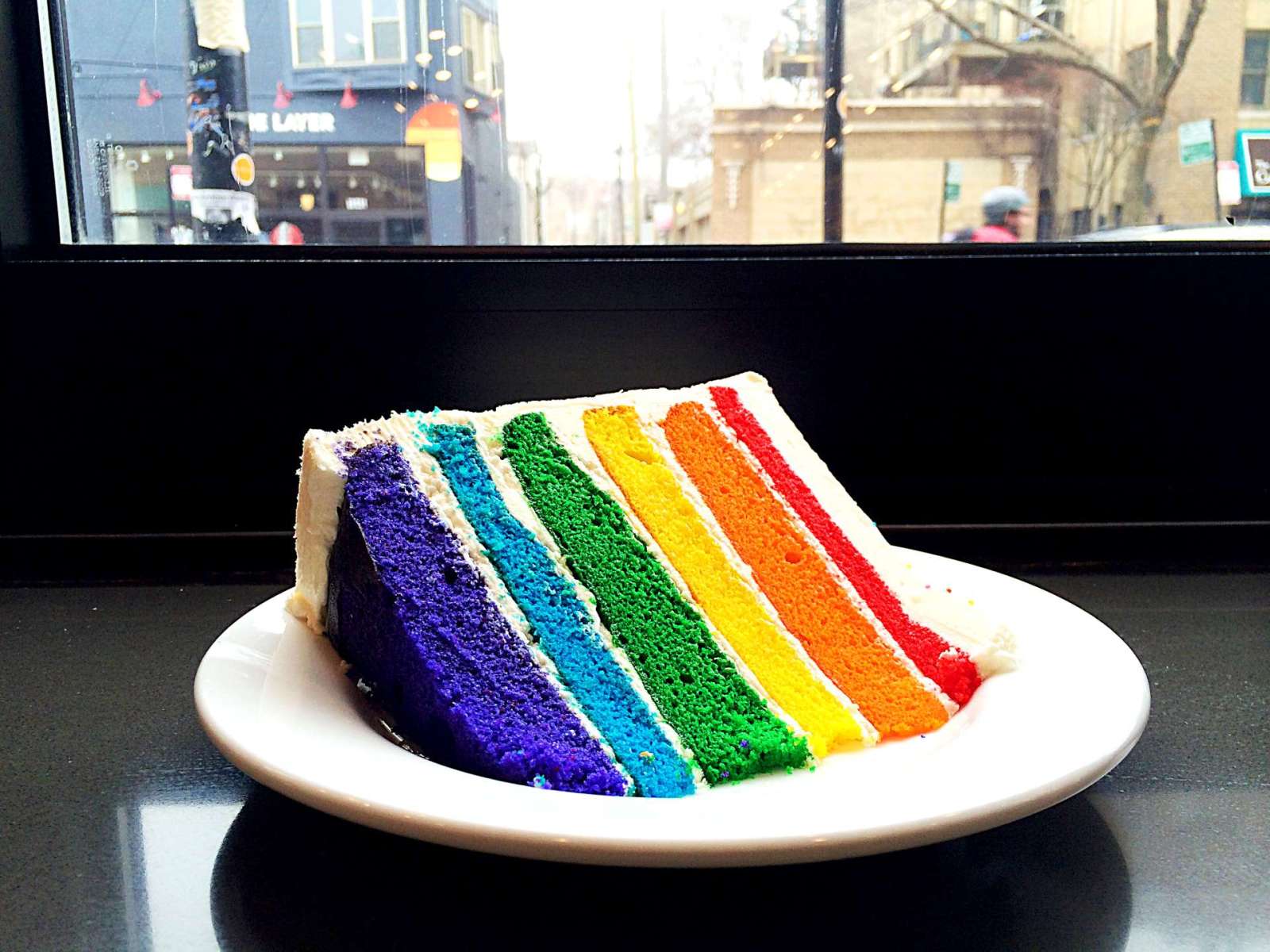 Rainbow Cake
1649 N Damen Ave, Chicago, IL 60647
Love, peace, and rainbow. Speaking of stoner food, nothing is more legit than the Rainbow Cake. Of course, you can never go wrong with their cupcakes and cookies, either. This entire store is pretty much a stoner's heaven, so we'll leave everything to your best judgment (or just fill up your shopping cart if your adult decision-making functionality is gone. We've done that way too many times).
PS: They also have a location in the Loop now.
Whatever Pie You Want
1969 W Montrose Ave, Chicago, IL 60618
So… we kinda tried to find a favorite pie from their menu, but honestly, that was a waste of time. Everything is good. Seriously. It doesn't matter if you are the classic apple or pecan pie person, or you want to try the crazy cherry snickerdoodle pie, or even their cookies as big as your face… It doesn't matter anymore. This, shop, is heaven for all dessert lovers.
Grilled Cheese & Tomato Soup
228 W Chicago Ave, Chicago, IL 60654
This little rustic getaway in River North is a great place to hide and chill. And we can't be the only ones craving a good classic snack after a good smoke? Anyways. There's something about a simple grilled cheese and tomato soup that nothing else can do. That combo just hits differently.
But Chalet also has delicious flatbreads to add to your munch list.
Baked Parmesan Bread
all locations
We love Bob's Pizza. Frankly, everything is good. But speaking of munchy snacks, nothing can beat the baked parmesan bread, especially when it's fresh. You can also ask for different dipping sauces. Or, send us a message and maybe we will share with you our editor's home-made herbal garlic butter recipe.
Featured Image Credit: Neil Burger