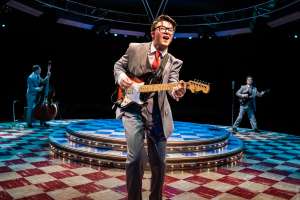 The setting is the late 1950s. The world is changing. Elvis is king. And a new sound is emerging. All in a span of just three short years, Buddy Holly from Lubbock, Texas shot to fame and changed the face of rock 'n' roll forever.
The smash hit musical celebrating the life of Buddy Holly, BUDDY – THE BUDDY HOLLY STORY, is playing now through August 13 at the Marriott Theatre Lincolnshire.
Retelling the incredible story of a young man whose musical career changed rock 'n' roll, Buddy Holly is played by the multi-talented Kieran McCabe whose last appearance at the Marriott was in Million Dollar Quartet.
Directed and choreographed by Amber Mak with musical direction by Matt Deitchman, this high-energy tribute to the early years of rock 'n' roll will have you up in your seats singing along.
With such hits like "That'll Be the Day, "Peggy Sue," and "Everyday," this rocking musical features several of the decade's greatest hits, including Ritchie Valens' "La Bamba," The Big Bopper's "Chantilly Lace", "Oh Boy," and many more.
"From The Beatles to Bruce Springsteen to The Rolling Stones, if you like rock then you will love BUDDY," said director and choreographer Amber Mak. "Filled with incredible actor/musicians, this show will transport you back to the early stages of rock n' roll when music was a uniting force. This show elevates Buddy Holly's lasting impact and influence in rock 'n' roll to celebrate the vibrancy of his iconic life."
As Buddy, McCabe captures all the humor, charm and ambition that made Holly so unique, along with his signature black eyeglasses. Backing him up are a talented bunch of musicians: Jed Feder, Shaun Whitley and Michael Kurowski as the Crickets.
Watch in amazement as they all switch and play multiple instruments, including McCabe on the drums.  What a group of talented musicians on one stage!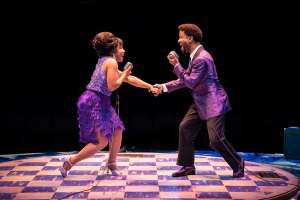 Standouts include Melanie Brezill who takes on multiple roles as a singer and dancer. She has a fabulous, powerful voice and received thunderous applause.  With David Stobbe as the Big Bopper and Jordan Arredondo as Ritchie Vales, you realize all that was lost "the day the music died."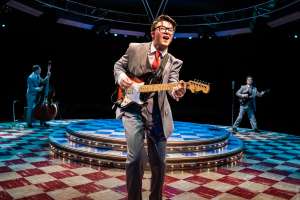 Once again, kudos to Costume Designer Theresa Ham for her colorful, beautifully coordinated costumes that perfectly depict the era. From the matching jackets in the ensemble to the other performers, the costumes reflect the changing look of fashion.
For tickets, please call 847.634.0200 or go to tickets.marriotttheatre.com. Visit www.MarriottTheatre.com for more information.
Next up at the Marriott Theatre is "Gypsy," beginning August 23 and "Beautiful – The Carole King Musical" beginning November 1.
All photos: Liz Lauren