Thrill seekers will want to make tracks to The Forge: Lemont Quarries, one of the largest outdoor adventure parks in the world. The year-round, 300-acre park is located 22 miles southwest of downtown Chicago in historic Lemont. Open to visitors of all ages and abilities, The Forge features the three tallest ropes towers in the world, the longest and tallest ziplines in the tri-state area, BMX and mountain biking trails, a dedicated kids adventure zone, and lots more. Get ready to tackle the largest outdoor adventure course in North America!
Climb & Zipline Adventure
The main showpiece of The Forge is one of the largest aerial challenge courses in the world. Boasting over 10 acres, this adventure course has five standalone Hex Towers interconnected by two miles of ziplines, multiple rappelling stations, and 299 high ropes course elements that are spread across 15 aerial adventure trails. The Climb & Zipline Adventure allows participants to glide across one of four quarry ziplines, and provides two miles of ziplines between towers, rappelling stations, and climbing elements.
Participants with physical disabilities can also test their limits, as the adventure is designed with the capability to lift participants with mobility challenges to climb up and through a level of one of the Hex Towers, and zip nearly 1,000 feet over a scenic 12-acre lake.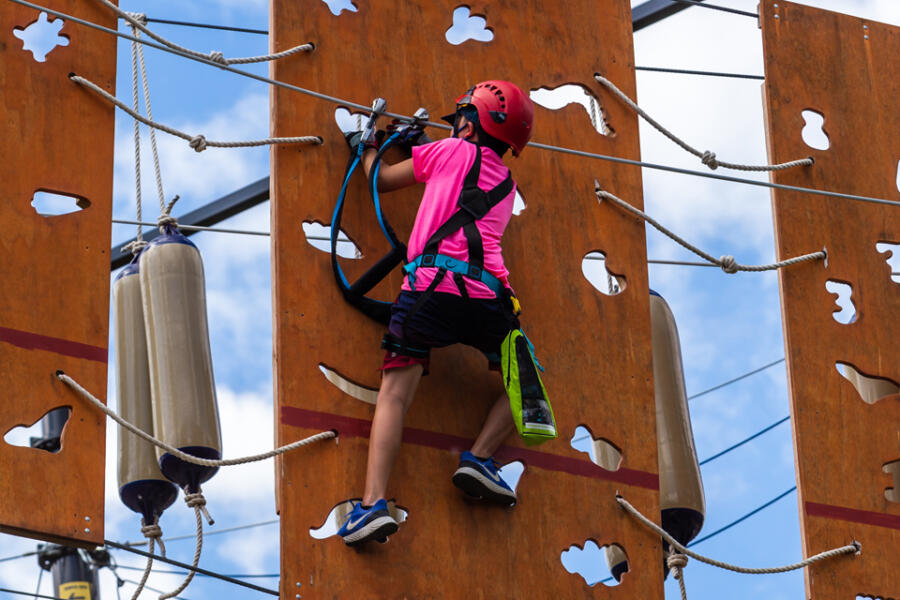 Kids Adventure Zone
This fun area is designed for children ages 3 to 13 years old. Kids can safely roam free without harnesses or helmets. Little adventurers can climb more than 12 feet in safety-netted structures and take on the challenges of more than 30 fun ropes course elements. There are also mini-ziplines and balance lines.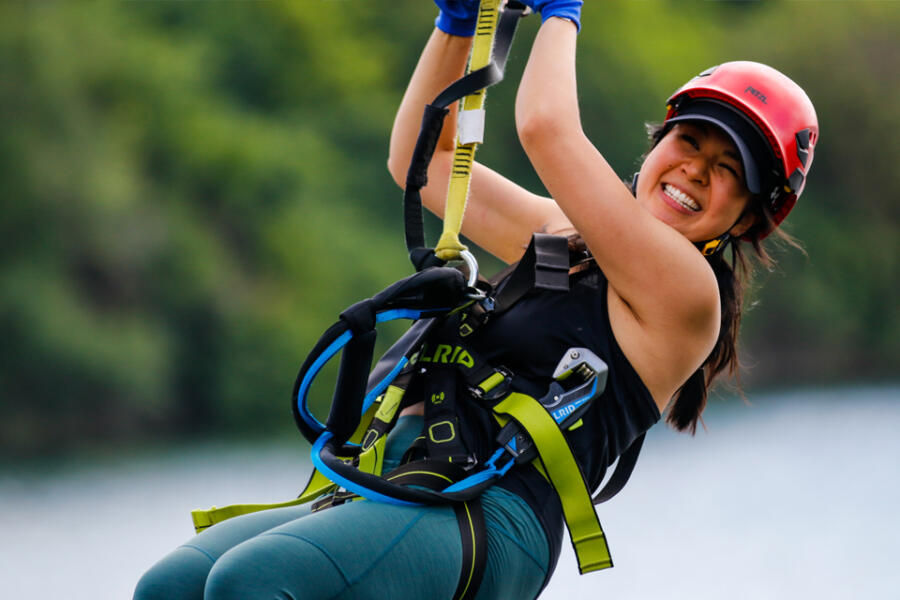 More to explore
The adventures are endless at The Forge. Rent a kayak or canoe and explore the lakes of The Forge Quarry. Do some BMX and mountain biking at the new drop-In bike park, featuring beginner, intermediate, and expert trails. Show off on the region's most advanced skills courses and pump tracks. Or opt for a casual cruise or walk along more than five miles of crushed limestone paths.
Gather your friends or family for a game of outdoor laser tag — there are more than 30 game types to choose from. Join in Archery Battle Tag, which combines the action of dodgeball with foam-tipped arrows. Set up a friendly competition of axe throwing. Try maceball, where capture the flag meets swashbuckling sword dueling.
Do some orienteering, using a traditional map and compass to explore the Heritage Quarries. Take off on a traditional scavenger hunt. Or try an outdoor augmented reality game that's a mix of an escape room, scavenger hunt, and location-based adventure.
Special events
The Forge hosts numerous events throughout the year. Catch summer concerts in the amphitheater, a food truck festival, sunrise and sunset yoga classes, and an art walk. The Forge Race Series welcomes runners ranging from beginners to pros, and includes triathlons and half-marathon trail races.
Dining
Kick back and enjoy a snack or cocktail (try The Forge Mimosa) at The Foundry, overlooking the scenic Forge Quarry. Enjoy hot meals right off the grill with Forgefire Adventure Dining, available on weekends. During warm-weather months, don't miss the outdoor Beer & Appetizer Pairings every second Friday of the month, Sunday Brunch on the last Sunday of every month, and free live music featuring local musicians every Friday. During the winter, experience Forgefire Globe Dining and eat outside in your own private, climate-controlled snow globe.
Learn more about The Forge: Lemont Quarries and plan your next adventure today!