Two times a year the Chicago Bears and Green Bay Packers square off in one of the oldest rivalries in professional sports. It's appointment television. For Bears fan like myself, well, it's appointment television in the sense that I make an appointment with my couch, order some sort of food item(s) that will make me feel better about the fact that the Bears are playing the Packers and then I crack open an ice cold Great Taste Less Filling Miller Lite to accompany it. The first Lite washes down the food, the next five wash down the Bears' performance. But this time, things are different.
Here's what I'm talking about: Miller Lite, aka the nectar of the Gods, is teaming up with retired Bears player, Zach Miller, to add to your Bears-Packers experience with a one-of-a-kind 'Da Miller Lite Mobile Tailgate'. Ahead of this weekend's tilt at Lambeau Field between the 9-3 Green Bay Packers and your 4-8 Chicago Bears, Miller Lite and Miller Tight [End] will be giving away limited-edition Bears Holiday Sweaters to fans at different places across the city.
The sweater itself is a super exclusive orange and blue twist on their classic holiday sweater and it'll be available for FREE (yes you read that right) to Bears fans on December 12th. One day only—the day of the big game—and only in Chicago, fans will have the chance to meet Zach Miller at various spots across the city as he travels through different neighborhoods passing out the sweater on a first-come first-serve basis. You can check out the map below for locations and times.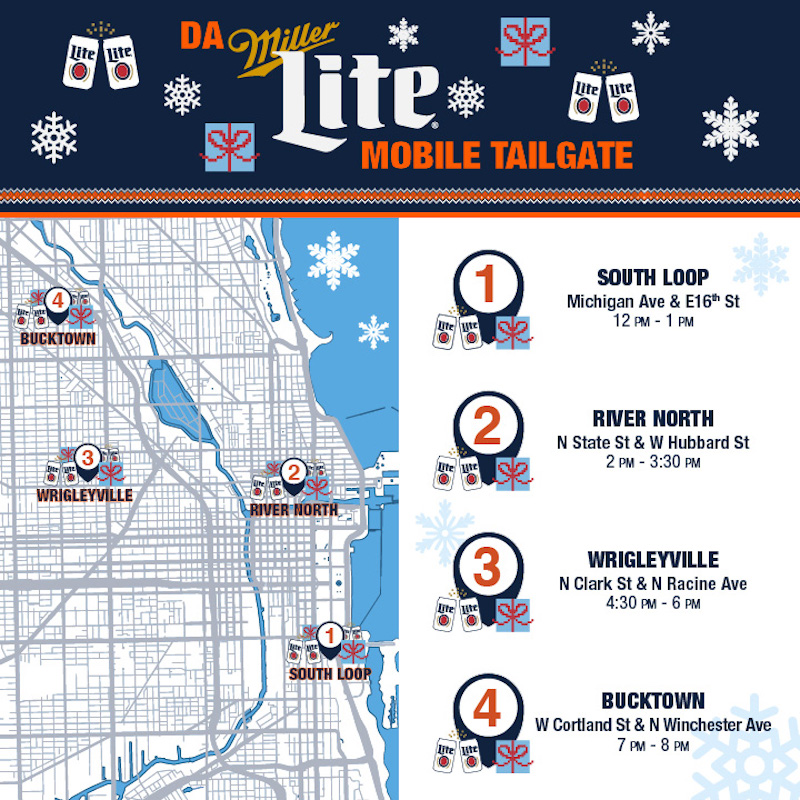 If you're a Chicagoan by nature and see these cross streets in these neighborhoods and instantly begin tapping into your inner-taxi driver, you know these spots as the corners of: (1) 16th Street Bar & Coffee Lounge, (2) Mother Hubbard's, (3) Wrigleyville Dogs or The GMan Tavern, and (4) Lottie's Pub. Who knows, maybe you show up to Lottie's between 7-8 to get your sweater, stay a while, and Zach Miller slams beers with you at the best bar in the city? I don't think Zach's dog comes included but that'd probably be the only thing that could make this Mobile Tailgate any better.
We know the Bears are likely going to lose in Green Bay. In fact, the Bears are 3-20 against the Packers the past decade and haven't won in Green Bay since November of 2015. Considering the Bears are 14-point underdogs on Sunday night that doesn't look likely to change, either. But if you have an ice cold Miller Lite, and a comfy, cozy, stylish Miller Lite sweater to swaddle away your sorrows, who is the real winner? You, that's who.
So, remember these things as you prepare your game day agenda and just know that you're in store for more smiles than otherwise drinking a GTLF in a dope Chicago Bears x Miller Lite holiday sweater.
Image Credit: ICF Next