Ready to play a game because that's my mood right now. Does this suck or am I just getting old? The official lineup for Lollapalooza 2022 dropped Tuesday morning and again I find myself with this internal conundrum. Is this yet another terrible Lolla lineup, or is it good, and I'm just the curmudgeon 31-year-old behind my keyboard complaining because I don't understand festival culture anymore?
Ultimately, I'll let you decide for yourself but as you browse the lineup announcement poster, scrolling line by line circling the acts you plan to spend $500+ to see, let me give you a handful of my [oh so very important] thoughts on this year's card.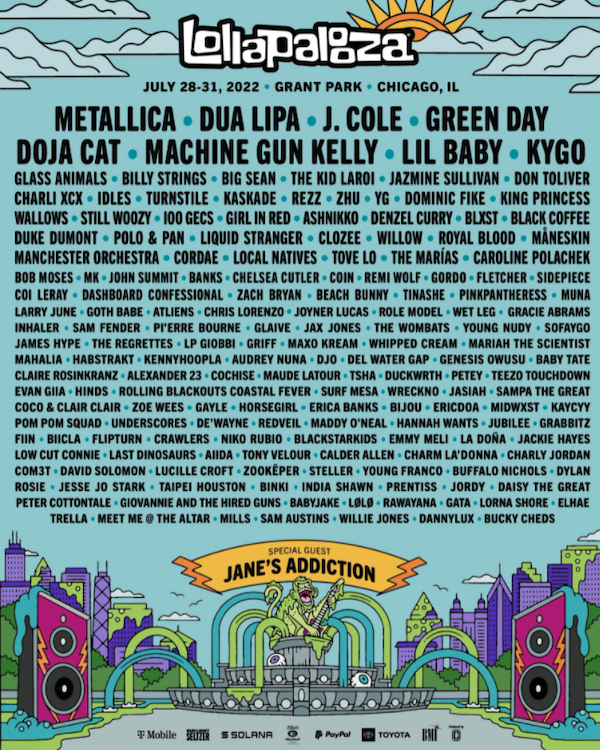 We'll start on the top two lines. The Elite 8, if you will. Your headliners. Lolla has always tried to tap into the older crowd by flashing a rock band two weeks away from their AARP card on the top line. Last year it was Foo Fighters, 2019 was The Strokes, 2018 Jack White, so on and so forth you get the picture. This year, the young Gen Z Lollapalooza crowd will be treated to not only Green Day (American Idiot came out 18 years ago) but also Metallica—a band that was formed 20 years before the average attendee was born and one that has not been relevant since it sued Napster in 2000. That's right, effing Napster.
Joining the two rock gravestones as headliners include pop supernovas Dua Lipa and Doja Cat, J. Cole (who is performing Lolla for like the 5th time now), Kygo (should be vibes), and Lil Baby (best rap act of the lineup). Now since I'm a jovial guy and don't want to wash this entire thing in pessimism I think it's important to amplify that the true draw of the headliners, and probably the entire festival are, the women. Dua Lipa and Doja Cat are without question two of the most sought after acts in all of music right now and deserve to be the top two billed acts. Add in Willow, Jazmine Sullivan, Girl in Red, Tinashe, Chelsea Cutler, and Charli XCX, and there's enough justification to pay the ticket price right there. But festival organizers sometimes can't get out of their own way and thus here we are again, having to deal with Machine Gun Kelly and which ever version of his tired shtick he decides to paint his nails with that day.
Moving on down, can we stop calling Big Sean's people and signing him on to do these things. Please. Leave him in 2012 with Derrick Rose's knees. Additionally, Glass Animals continue riding the wave of "Heat Waves" (all puns intended) so respect to that, I guess. Get yours while the getting is good. But then, there on the third line is The Kid Laroi. I'm guessing most of Lollapalooza's target demo has their Pampers in a bunch seeing the Australian amalgamation of Justin Bieber and a Poptart going through puberty billed behind the likes of a guy named Billy Strings; a situation that bodes well for no working commuter who has to ride the Union Pacific-North Metra Line between July 28th and July 31st.
The true love of events such as Lollapalooza has never really been about the headliners though. The headliners sell tickets to the masses, yes, but it's the middle-to-bottom-of-the-pack acts that draw the attention of true music fans. You know, the types that don't rely on the Billboard Hot 100 to learn about their music.
A few circled acts that will fly under the radar (at least for me) include: Manchester Orchestra, Local Natives, Cordae, The Wombats, Petey, Del Water Gap, Taipei Houston, and Coin. Last year we focused much of our Lollapalooza Artist Spotlights around smaller acts such as Nez and The Backseat Lovers. What has become a growing problem in the past five years now, however, is that the rising price of 4-day & single-Day passes to Lollapalooza have become so high that it is tougher and tougher to justify spending hundreds of dollars to see acts like the above mentioned. We used to rely on festivals to catch emerging acts, even if the setting wasn't a perfect fit. Now you couldn't convince me $350 for a general four day is worth it to see a 15 minute set that's probably better suited for a smaller intimate setting to begin with.
Maybe that's the old in me speaking. Maybe I'm jaded. But as each summer passes and more and more Lollapalooza events happen — I find the quality of the show goes down while the price and general douche-baggery of the population becomes more and more difficult to stomach. Take this with a grain of salt, I'm just probably on the wrong side of 30 by now.
Lollapalooza 2022 will be from July 28-31, 2022 in Chicago's Grant Park. You can buy your 4-day passes beginning today via the festival's website. I should tell you though, the current wait time to buy your 4-day pass to the Kaskade show is like six hours long right now. Have fun!
Featured Image Credit: Lollapalooza