To celebrate the coming holiday, we've assembled a reading list where everyone can find the perfect gift. Our curated holiday gift guide is here to help you inform, inspire, educate, and amaze your loved ones this season. You can find here some of our best books, from history to culinary, for animal lovers to plant growers, and much more. Best of all, if you use the code AD2023 you get 30% off! And, if you spend $60 or more, you qualify for free shipping! Want a different browsing experience? You can explore all of these titles and more in our annual Reading Catalog.
Be sure to order on or before December 6th for holiday delivery!
General Nonfiction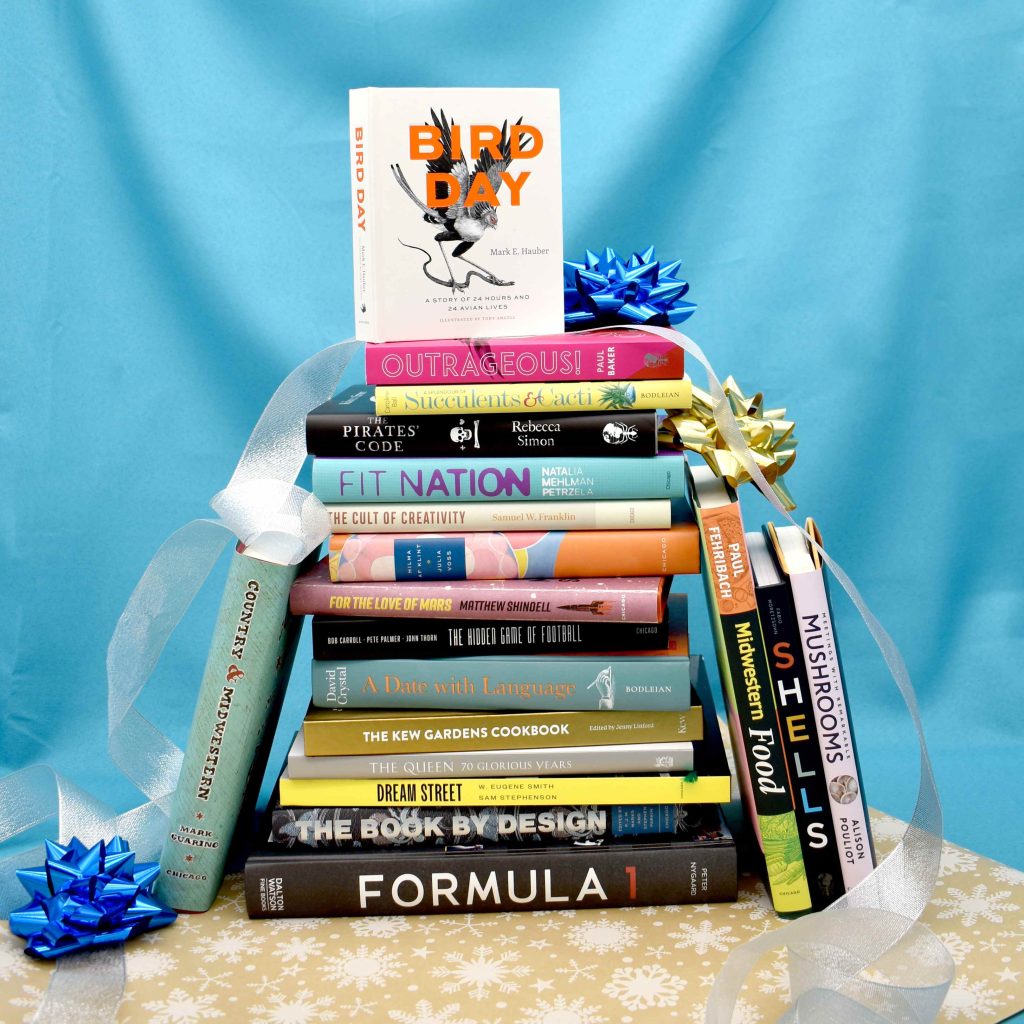 Browse Nonfiction titles
The Two-Parent Privilege: How Americans Stopped Getting Married and Started Falling Behind 
By Melissa S. Kearney 
"Kearney is more interested in whether the underlying causes of single parenthood can be fixed, so that more happy marriages are formed. She laments the long-term decline in the availability of good jobs for men without college education, which is thought to reduce the pool of 'marriageable men' and—consequently—present fathers. She also highlights that social norms now exert less pressure, even on parents in a healthy relationship, to live together. . . . Kearney concludes that both money and mores are needed for additional two-parent homes to form."—Economist
The Philosopher of Palo Alto: Mark Weiser, Xerox PARC, and the Original Internet of Things 
By John Tinnell
​​"In the life of Mark Weiser, John Tinnell has found a morality tale for our times. For anyone looking to understand how technology is shaping society today, The Philosopher of Palo Alto is a compelling and necessary read."—Nicholas Carr, author of The Shallows and The Glass Cage
The Apple II Age: How the Computer Became Personal 
By Laine Nooney 
"The Apple II Age is a joy to read and an extraordinary achievement in computer history. A rigorous thinker and a bright and witty writer, Nooney offers a compelling account of the initial attempts to make computers inviting to the public. The Apple II Age, like the old microcomputer itself, is bound to intrigue both experts and newcomers to the subject."—Joanne McNeil, author of Lurking: How a Person Became a User
The Capital Order: How Economists Invented Austerity and Paved the Way to Fascism 
By Clara E. Mattei
"In our current moment, as policymakers are once again entertaining monetary tightening as a means to impose necessary hardship & discipline on working people, The Capital Order is a potent reminder of the cruel rationality of austerity."—Dissent Magazine
How to Think like a Philosopher: Twelve Key Principles for More Humane, Balanced, and Rational Thinking 
By Julian Baggini
​​"Read this book. You may not learn to love like Sappho, cure like Avicenna, ponder like Spinoza, disguise yourself like Kierkegaard or rival any of the other fascinating eccentrics who fill the volume. But if you learn to think like Peter Cave—with freshness, humour, objectivity and penetration—you will have been amply rewarded."—Felipe Fernandez-Armesto, University of Notre Dame, author of Out of Our Minds: What We Think and How We Came to Think It
The Black Ceiling: How Race Still Matters in the Elite Workplace 
By Kevin Woodson
"The Black Ceiling provides a desperately needed and beautifully written account of the lives of Black professionals in top law firms, investment banks, and consulting firms. Woodson powerfully shows how, despite these firms' publicly stated commitments to increasing racial diversity, inside their doors familiarity with White, upper-middle-class culture serves as vital currency for accessing plum assignments, necessary on-the-job training, favorable performance evaluations, close relationships with partners, and ultimately promotions. The book should be mandatory reading for employees in elite professional service firms and the students they recruit."—Lauren A. Rivera, author of Pedigree: How Elite Students Get Elite Jobs
Plants and Gardening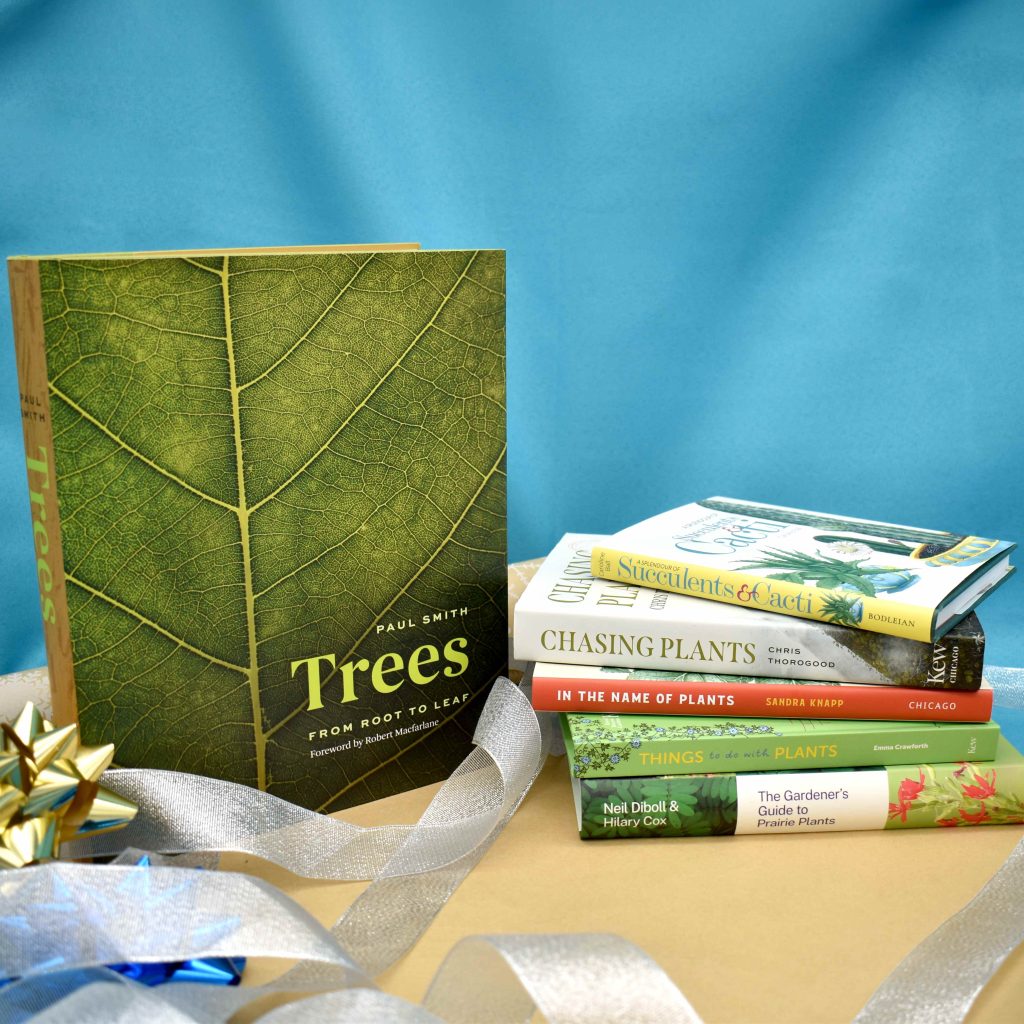 Browse Plants and Gardening titles
A Splendour of Succulents & Cacti 
By Caroline Ball  
A stunning gift book of eighteenth-century illustrations of succulents and cacti.
From Bodleian Library Publishing
The Gardener's Guide to Prairie Plants 
By Neil Diboll and Hilary Cox
"If you are looking for the complete—and I do mean complete—guide to prairie ecosystems, you will not do better than this much-needed book. Diboll and Cox cover not only what prairie species look like at each of their growth stages (a first!), they also dive deep into their historical and ecological roles in prairie ecosystems."—Douglas W. Tallamy, University of Delaware
Things to Do with Plants: 50 Ways to Connect with the Botanical World 
By Emma Crawforth
A creative guide to the way plants can help us improve our lives sustainably.
From Royal Botanic Gardens, Kew
Chasing Plants: Journeys with a Botanist through Rainforests, Swamps, and Mountains 
By Chris Thorogood  
"Luminous paintings are the star of the show. . . . It is hard not to share in Thorogood's delight as each page brings effusions of rare and unique beauty, punctuated by occasional non-floral adventures: an encounter with an erupting volcano; a nail-biting descent down a crumbling cliff face in search of a broomrape; a memorable dinner in the Middle East and another in Okinawa. Who would have thought that chasing life forms that are rooted in place could be such an exciting occupation?"—Natural History
In the Name of Plants: From Attenborough to Washington, the People behind Plant Names 
By Sandra Knapp 
"Fascinating profiles, gorgeous illustrations, and fun stories about the figures featured in plant names."—Meg Lowman, author of The Arbornaut: A Life Discovering the Eighth Continent in the Trees Above Us
Meetings with Remarkable Mushrooms: Forays with Fungi across Hemispheres 
By Alison Pouliot
​​"Conveying an impassioned message for conservation and awareness, Meetings with Remarkable Mushrooms is a compelling, enlightening look at lowly but remarkable fungi that are often hidden in the shadows."—Foreword Reviews
History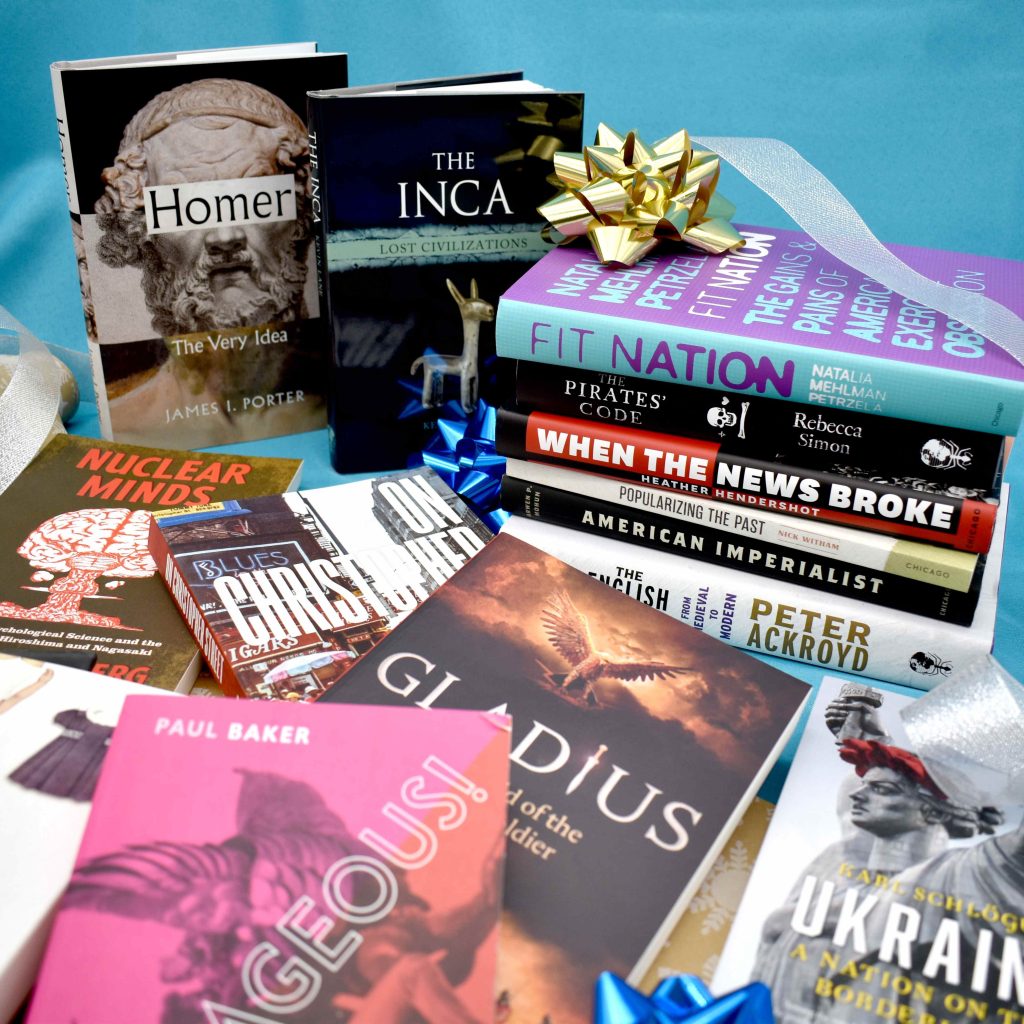 Browse History titles
When the News Broke: Chicago 1968 and the Polarizing of America 
By Heather Hendershot
"An invaluable perspective on an ongoing threat to the free press and democracy."—Booklist
Fit Nation: The Gains and Pains of America's Exercise Obsession 
By Natalia Mehlman Petrzela
"Petrzela takes us on a whirlwind journey. . . She traces how the United States simultaneously became obsessed with working out and failed to provide necessary resources for it."—New York Times
Outrageous!: The Story of Section 28 and Britain's Battle for LGBT Education 
By Paul Baker
"As Baker sets out in this vivid look at the legislation and its effects, Section 28 represented 'the culmination of the moral panic around homosexuality that took place over the 1980s.' He sets this panic into its broader historical context, charting the long-burning cultural and political embers ignited when a London school stocked Jenny Lives with Eric and Martin. . . . Baker movingly recounts the more pernicious ways in which it affected the lives of gay people. . . . Baker's chatty, tart tone and personal asides serve to throw the heady extremes of a not-so-distant era into even sharper relief."—BBC History
City of Newsmen: Public Lies and Professional Secrets in Cold War Washington 
By Kathryn J. McGarr
"Although a common critique of today's media is that journalists and the 'deep state' are too enmeshed, McGarr demonstrates that such coziness is nothing new. During the Cold War, a shared sense of responsibility existed not just to inform the public but to protect them."—New York Times
In Levittown's Shadow: Poverty in America's Wealthiest Postwar Suburb 
By Tim Keogh
"In Levittown's Shadow shows us how the postwar US suburb was both better and worse than you might think, establishing what we might even characterize as a social-democratic welfare state for some, but one built on the exploitation and immiseration of others. This excellent book thus complicates our histories of the character and development of the US welfare state, undermines the myth of the poverty-free suburb, and deepens our understandings of the long roots of today's widespread suburban poverty."—Stephen Pimpare, University of New Hampshire
Defying Hitler: The White Rose Pamphlets 
By Alexandra Lloyd
New translations of the White Rose pamphlets, the anti-Nazi writings distributed by University of Munich students.
Astray: A History of Wandering 
By Eluned Summers-Bremner
"Moving from the ancient Aboriginal cosmology and Eurasian steppe nomadic culture to the Romany peoples and the movements of today's refugees, this alluring-sounding history examines ideas of belonging, alienation, and hope."—Bookseller
Gladius: The World of the Roman Soldier 
By Guy de la Bédoyère
"A really splendid book that brings to life in its scholarship and animated style the lives of some of the most remarkable soldiers the world has ever seen. . . . [Gladius] will be an absolute delight for those who are fascinated by the life and achievements of the world's first and probably greatest professional army."—Military History Matters
Art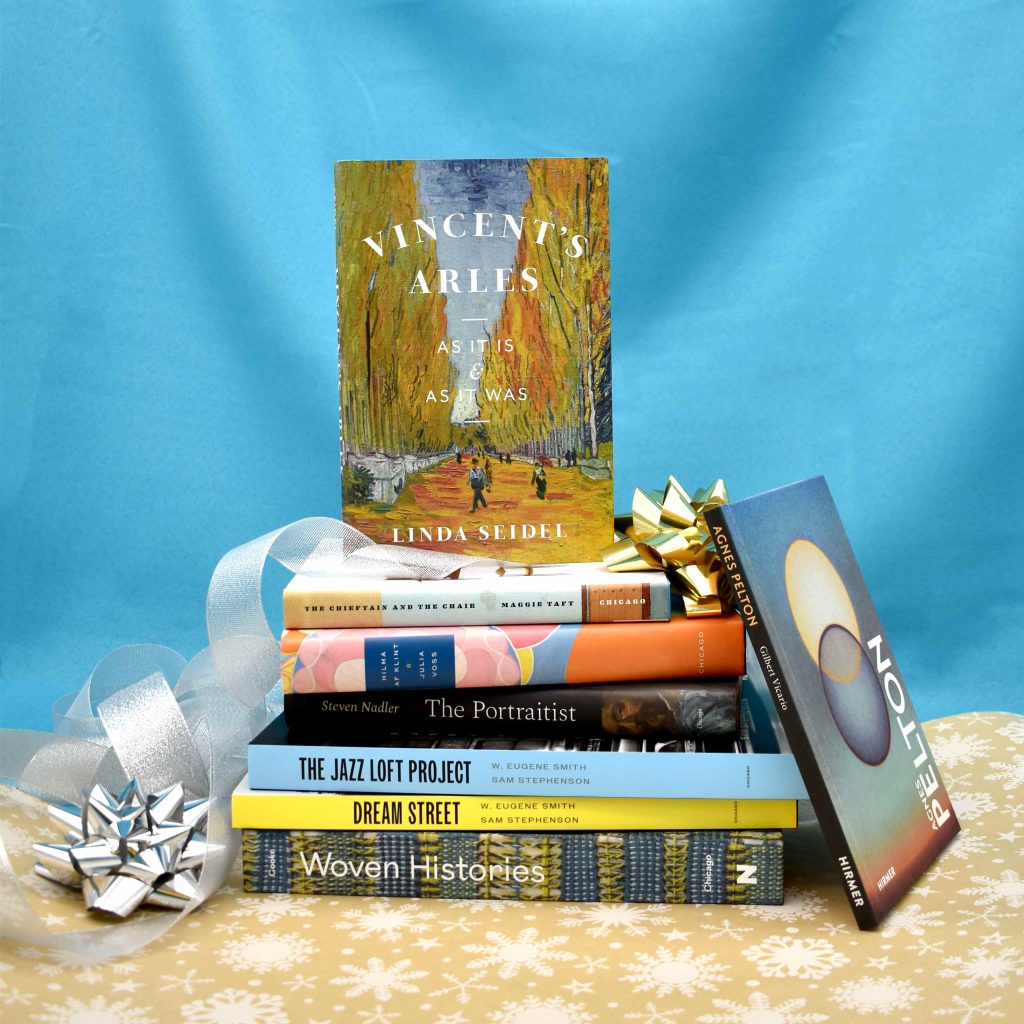 Browse Art titles
Jazz Loft / Dream Street
By Julia Voss
"Voss has produced an extraordinarily rich portrait of a radically unusual, but not eccentric, modern artist. . . . Voss's biography makes af Klint so much more than an artist simply to be inserted into a more gender-inclusive canon of 'abstract art'. It saves af Klint from art history while sending us deeper into her world. Reading it was a revelation, and it has changed my understanding of the artist, the woman, and her times."—Literary Review
The Chieftain and the Chair: The Rise of Danish Design in Postwar America 
By Maggie Taft
"Danish design (or at least stuff that looks like it) has been a fixture of American interior decoration since it was first imported in the 1950s. Pieces like Hans Wegner's Round Chair and Finn Juhl's Chieftain are ubiquitous, so it's easy to forget that someone had to make people believe they were emblems of middle-class good taste before, you know, they actually were. Taft, an art historian and writer, uses this clear, tight book to trace the origins of these objects and in doing so demolishes some of the many myths about a field you know and (might) love."—Bloomberg
Woven Histories
The Stray Shopping Carts of Eastern North America: A Guide to Field Identification 
By Julian Montague
"A field guide to shopping carts is really a field guide to shopping: Montague's poignant classifications reveal the often bleak, sometimes beautiful landscapes in which we acquire and dispose of goods. By the end of the book, the carts come to embody urban brokenness in a deeply human way."—Alexandra Lange, author of Meet Me by the Fountain
Animated Advertising: 200 Years of Premiums, Promos, and Pop-ups, from the Collection of Ellen G. K. Rubin 
By Ellen G. K. Rubin
A lively look at an underexplored niche in the history of American ads: pop-ups.
Funk You Too!: Humor and Irreverence in Ceramic Sculpture
Edited by Angelik Vizcarrondo-Laboy; With Essays by Angelik Vizcarrondo-Laboy and Garth Johnson
The first book to connect the history of Funk Art to contemporary ceramic practice.
Inventing Photography: William Henry Fox Talbot in the Bodleian Library 
By Geoffrey Batchen 
"Batchen, a history professor at the University of Oxford, surveys the career of Henry Fox Talbot in this illuminating, richly illustrated offering. . . Batchen draws on a fascinating mix of work from the inventor's career—Talbot's renderings of lace, which in his day were regarded as trompe l'oeil wizardry, still seem arrestingly true to life—and brings Talbot's artistic evolution to life in energetic prose. This foray into the origins of photography delights."—Publisher's Weekly 
Coffee Table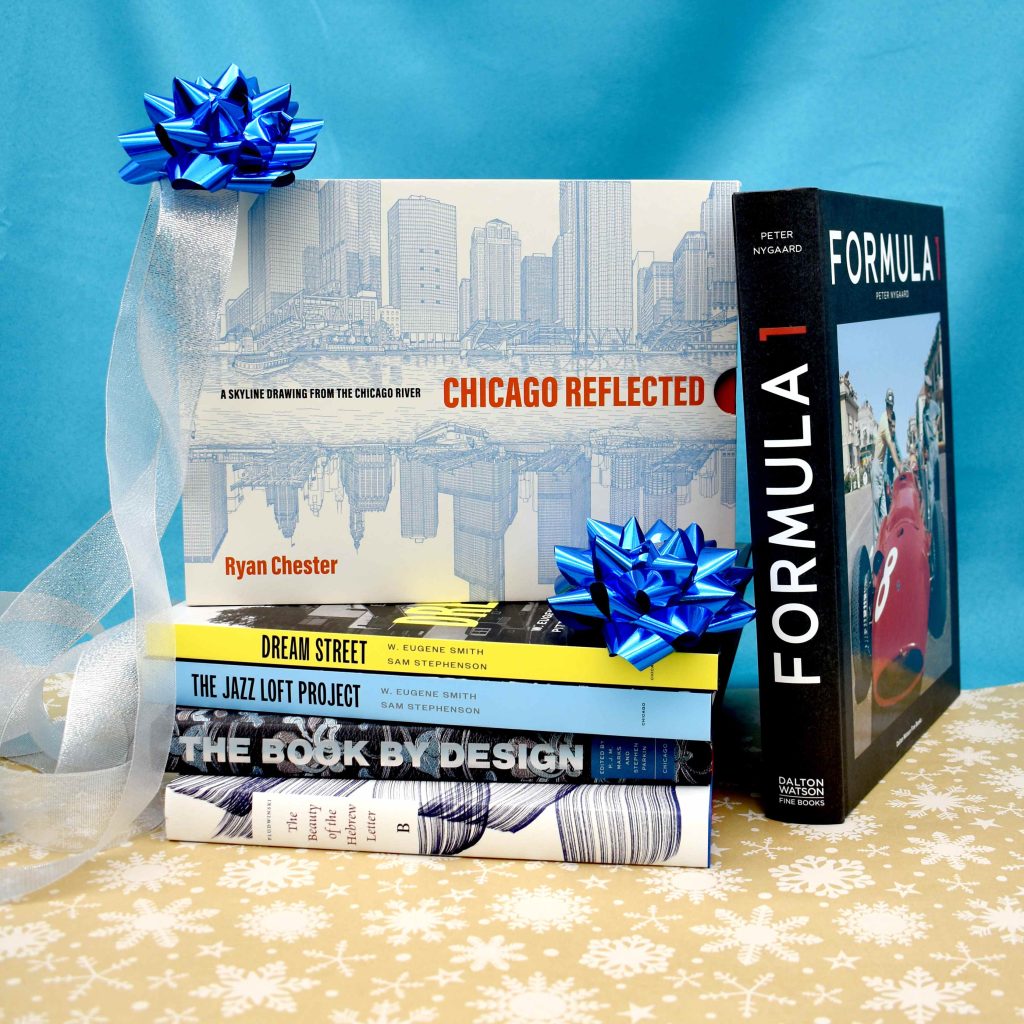 Browse Coffee Table Books
By Paul Smith; Foreword by Robert Macfarlane
"There are many books published on trees, but none quite like this one. The focus on trees from biological, ecological, and cultural perspectives; the array of diverse examples; and the excellence in design and illustration—all paired with the author's considerable personal experience—make this book stand out."—Sir Peter Crane, author of Ginkgo: The Tree That Time Forgot
Phenomena: Doppelmayr's Celestial Atlas 
By Giles Sparrow; With a Foreword by Martin Rees
"Lovers of antiquarian science will welcome the publication of this meticulously crafted edition of Johann Gabriel Doppelmayr's Celestial Atlas, first printed in 1742. . . Bound in heavy boards with handsome marbled end papers, this is a book of enduring appeal."—Natural History
The Jazz Loft Project: Photographs and Tapes of W. Eugene Smith from 821 Sixth Avenue, 1957–1965 
By W. Eugene Smith and Sam Stephenson; with a Foreword by Robin D. G. Kelley
"The most chaotic and soulful gift book this year . . . an elegiac stew of sight and sound, and a singularly weird, vital and thrumming American document."—Dwight Garner, New York Times, on the original edition
Dream Street: W. Eugene Smith's Pittsburgh Project 
Edited by Sam Stephenson; With a Foreword by Ross Gay and Contribution by Alan Trachtenberg 
"[Dream Street] is Smith's attempt to record the paradoxes of city life in America—the clutch of industry, the dogged persistence of both community and loneliness, the forces of love, hate, growth and decay. Not even the venerated master of photojournalists could quite pull this off, but Smith's obsessiveness was harnessed to an enormous talent, and he wasn't far from the mark when he wrote that [this work] would 'create history.'" —Vicki Goldberg / The New York Times, on the original edition
The Book by Design: The Remarkable Story of the World's Greatest Invention 
Edited by P.J.M. Marks and Stephen Parkin 
A richly illustrated look at some of the British Library's most beautiful books from around the world.
The Beauty of the Hebrew Letter: From Sacred Scrolls to Graffiti 
By Izzy Pludwinski
"Pludwinski takes pains to depict Hebrew lettering as an ever-evolving art form, and his careful descriptions, replete with fascinating technical detail, illuminate the art without being overwhelming. This is a treat for the eyes and mind."—Publishers Weekly
Woven Histories: Textiles and Modern Abstraction 
Edited by Lynne Cooke 
Richly illustrated volume exploring the inseparable histories of modernist abstraction and twentieth-century textiles.
Cooking and Food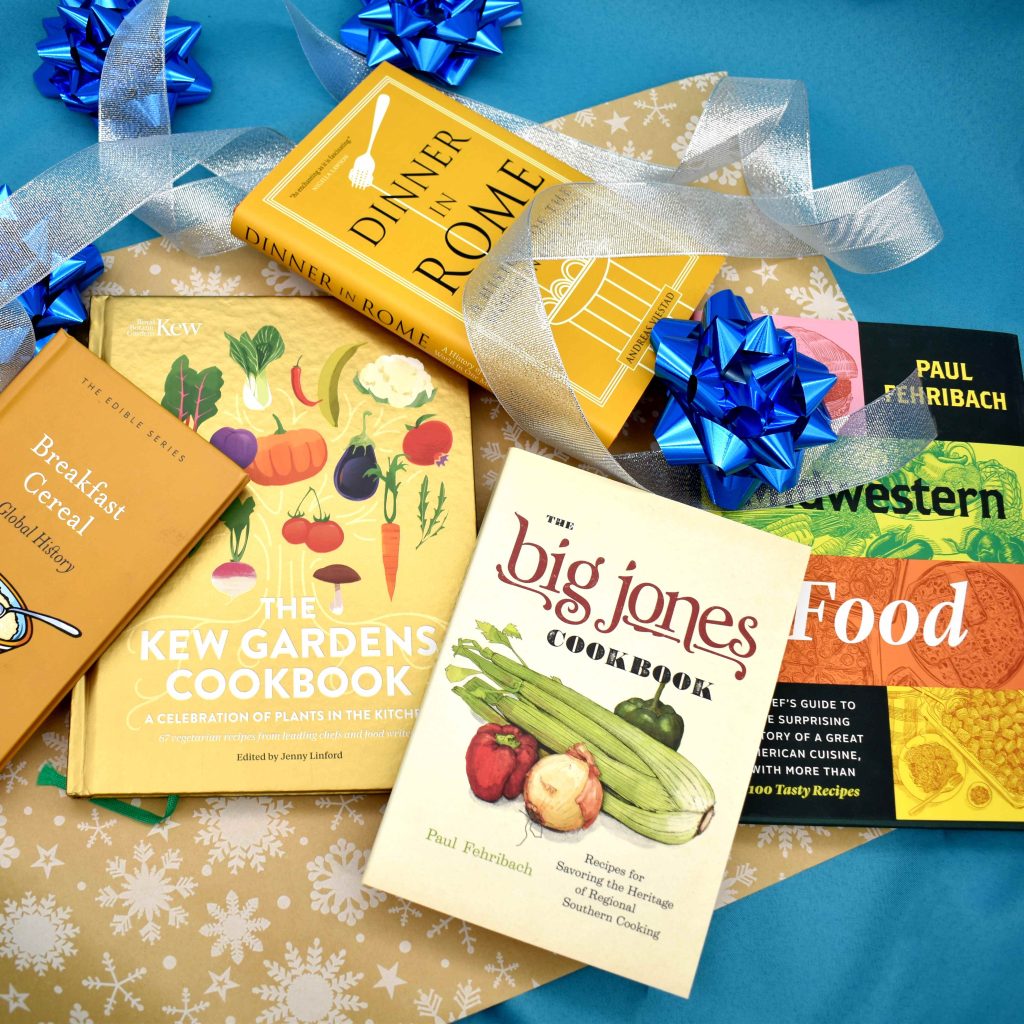 Browse Cooking and Food titles
Midwestern Food: A Chef's Guide to the Surprising History of a Great American Cuisine, with More Than 100 Tasty Recipes 
By Paul Fehribach
"In Midwestern Food, Big Jones chef Paul Fehribach digs through centuries-old cookbooks and community publications to explore Midwest culinary practices and how immigration has shaped the way people eat, and he includes recipes for the dishes he writes about."—Chicago Magazine
The Big Jones Cookbook: Recipes for Savoring the Heritage of Regional Southern Cooking 
By Paul Fehribach
"In The Big Jones Cookbook, Fehribach has provided a firm sense of culinary place and heritage when it comes to southern food, along with recipes you can't wait to make. He takes readers on a journey of the background of each recipe, both in his life and from a historical perspective. Time to go back to Chicago and enjoy eating his food in person again!"—Nathalie Dupree, co-author of Mastering the Art of Southern Cooking
The Kew Gardens Cookbook: A Celebration of Plants in the Kitchen 
Edited by Jenny Linford; Photography by Hugh Johnson
"Perfect for anyone seeking inspiration to follow a more plant-based diet. . . . The recipes are illustrated with beautiful photography."—Plant Life
From Royal Botanic Gardens, Kew
Breakfast Cereal: A Global History Kathryn 
By Cornell Dolan
"Breakfast Cereal will reward readers with relatable stories and familiar images. It is worthy of a place at The Edible Series table and is the ideal starting point for your collection of the same: one down, 89 to go."—Culinary Historians of Canada
From Reaktion Books
Dinner in Rome: A History of the World in One Meal 
By Andreas Viestad
"Viestad comes across as a genial companion, both confident and unassuming. . . . Dinner in Rome avoids the florid excesses of much food writing and offers instead the simpler pleasures of a well-crafted book with satisfying body and depth."—Financial Times
From Reaktion Books
Animals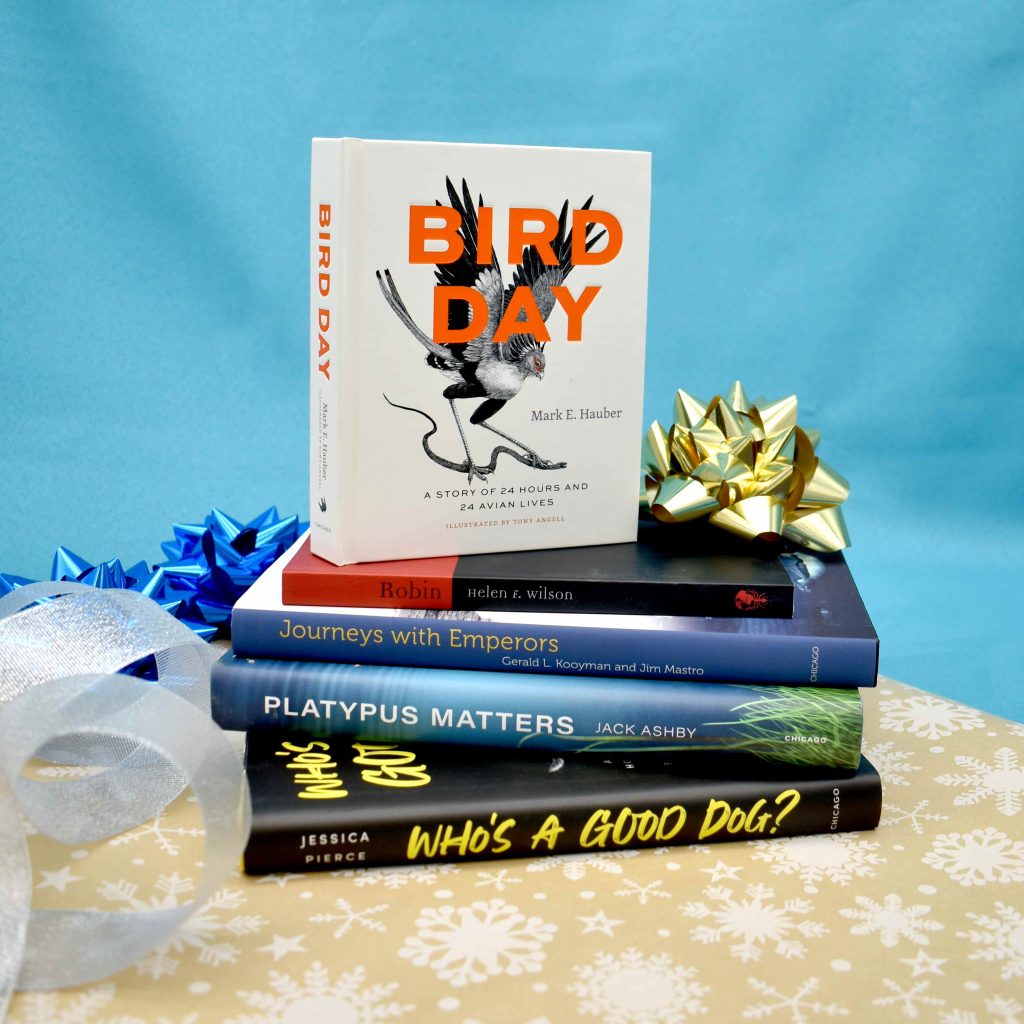 Browse Animal titles
Bird Day: A Story of 24 Hours and 24 Avian Lives 
By Mark E. Hauber; Illustrated by Tony Angell  
​​"A wonderful book that simultaneously made me nostalgic about a cave full of oilbirds in Trinidad and a kiwi running between my legs in a New Zealand sleet storm—and further informed me about the lives of birds. A brilliant collaboration between a first-rate behaviorist and my favorite bird artist."—Paul R. Ehrlich, author of Life: A Journey through Science and Politics and The Birder's Handbook
By Helen F. Wilson
"Everyone's favorite garden bird is celebrated and explored in this wide-ranging, superbly illustrated volume. Taking in both natural and cultural histories, Robin addresses questions including why the bird's name has traveled around the world and why it has a reputation for melancholy."—BBC Wildlife Magazine
From Reaktion Books
Platypus Matters: The Extraordinary Story of Australian Mammals 
By Jack Ashby
"Charming, informative. . . . Ashby's intoxication with Australia's mammals makes for a marvelous read. . . . Platypus Matters is full of astonishing facts that are certain to have you thinking differently about Australia's unique mammalian fauna and on occasion questioning the wisdom of the evolutionary process."—Tim Flannery, New York Review of Books
Who's a Good Dog? And How to Be a Better Human 
By Jessica Pierce
"Bioethicist and author Jessica Pierce has penned a wonderful guide to living life with dogs and improving your bond through respectful and joyful canine-human relationships. Who's a Good Dog? examines how we can nurture kindness, attentiveness, and empathy when working, living, and training with our dogs."—Connie Wilson, Modern Dog
The Book of Snakes: A Life-Size Guide to Six Hundred Species from Around the World (Second Edition) 
By Mark O'Shea
"O'Shea provides a rich introduction to the snake world, revealing that there are just over 3,700 living snake species known today and detailing the vagaries of skin shedding, venom delivery, and snake reproduction. Each of the species featured has a page devoted to it, with a map showing its location, information on its habits, plus color photographs of the snake itself. Flicking through the book reveals the amazing diversity of snakes—tiny acid-green Vinesnakes, vibrantly striped Rainbow Snakes and the ghost-like Japanese Aodaisho."—Wall Street Journal, on the First Edition