The annual American Political Science Association (APSA) meeting is about to kick off. Finally back in person, we look forward to all the perks of an in-person conference from free coffee to seeing the delighted look on authors' faces when they see their books at the booth to exploring a new city. As this will be senior political science and law editor Sara Doskow's first in-person APSA with the University of Chicago Press, we sat down with her for a chat.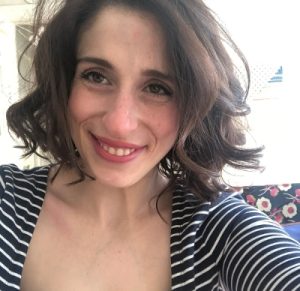 Can you tell us quickly about your path to being a Senior Editor acquiring in political science and law at the University of Chicago Press (UCP)?
Most immediately, I joined Chicago from Cambridge University Press (CUP), where I was editor and then senior editor for American and comparative politics for close to six years. This dual immersion in American and comparative politics has shaped many of my instincts as a political science editor, as have the times (I started acquiring for CUP in 2015). Before I joined CUP, I was an editorial assistant and then an editor for politics and area studies at Palgrave Macmillan. I have also worked as a freelance editor, and I gained my first taste of editing when I worked on two campus publications in college.
Do you remember what the first book you acquired at UCP was?
Of course! In American politics, it was Emily Farris and Mirya Holman's excellent forthcoming book on sheriffs, The Power of the Badge, which looks at the politics of the office and inequality in "law and order." In comparative politics, it was Santiago Anria and Kenneth Roberts's book in progress Polarization and Democracy, which traces the different origins and trajectories in power of "populist" and "social democratic" currents within the Latin American left to examine the distinct vulnerabilities of each and emergent patterns of hyper-polarization and institutional fragility in today's political orders. In political theory, it was Kevin Elliott's aptly titled Democracy for Busy People, which publishes in the spring. Stay tuned for all!
What does it mean to you to be acquiring in political science and law at this particular moment in history?
These times raise a host of new questions, while also revealing the stakes of trends that have been building for decades and the continued significance of much older conflicts. There is increased public appetite for content on politics and law, and the fields themselves are expanding and being stretched in new ways. These things present meaningful opportunities. At the same time, this moment is also humbling.
I believe that university presses have an important role to play in publishing books that are simultaneously rigorous and relevant. I look for books that engage with real-world politics and power, and that do so in thoughtful, transparent, and historically informed ways.
Do you have any advice for first-time authors?
Be ambitious and stay true to the questions that sustain you. Think about your audience and who you want to engage. How will your book transform the way that these readers think about the subject? Write for the people you admire, not for your worst readers! You may find it helpful to select a few books that you can return to often as models.
What are you most excited about attending APSA in person this year?
I always come home from APSA exhilarated–it is extremely stimulating to learn from authors about new projects (both their own and others that inspire them). The last few years have also taught us so much about the importance of community: I am excited to reconnect with authors whom I have not seen face-to-face for several years, and I also look forward to meeting new folks.
---
Find Sara and our team at booths 403-407 during the APSA 2022 annual meeting. If you're not attending in person, you can still browse our virtual exhibit and receive 30% off and free domestic shipping here.