In honor of University Press Week, November 13 through 17, 2023, university presses around the globe are celebrating and sharing the incredible impact that the work of this global community of university presses has on every one of us. This year's theme is #SpeakUP, which provides an opportunity for presses and their supporters to shout to the rooftops about the value of the essential work of university presses: giving voice to the scholarship and ideas that shape conversations around the world. Through a variety of publications and platforms, university presses and their authors cultivate and amplify a diverse, inclusive, and exhilarating range of research and concepts.
As part of the UP Week blog tour, we are honored to share the interview below that focuses on a book that exemplifies what it means to #SpeakUP, in this case about the intersections of politics, gender, and public health. We hope you'll check out the complete list of presses participating in this week's blog tour here.
---
Starting in 2005, people in the US and Europe were inundated with media coverage announcing the link between cervical cancer and the sexually transmitted virus HPV. Within a year, product ads promoted a vaccine targeting cancer's viral cause, and girls and women became early consumers of this new cancer vaccine. An understanding of HPV's broadening association with other cancers led to the identification of new at-risk populations—namely boys and men—and ignited a plethora of gender and sexual issues related to cancer prevention. Sexualizing Cancer is the first book dedicated to the emergence and proliferation of the HPV vaccine along with the medical capacity to screen for HPV—crucial landmarks in the cancer prevention arsenal based on a novel connection between sex and chronic disease. Interweaving accounts from the realms of biomedical science, public health, and social justice, Laura Mamo chronicles cervical cancer's journey out of exam rooms and into public discourse. Read on for an interview with the author.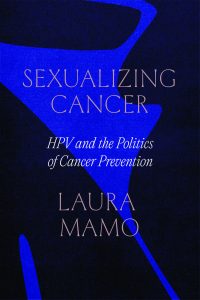 How did you become interested in this topic?
Almost twenty years ago now, in 2005, I noticed a surge in media coverage reporting that a new "cancer vaccine" was being developed. This was noteworthy on its own, but because I had long studied and written about gender and sexuality in medicine, when the New Yorker, Forbes, and other popular venues started to discuss the HPV vaccine as a "girls' vaccine," and more specifically, as a tool for preadolescent girls to prevent both cervical cancer, which was caused by HPV and well-known as the killer of many much older women, and a sexually-transmitted infection, which was the near-term HPV they would be exposed to when they became sexually active. I found it remarkable. Girls, STIs, and cancer were not thought of as having much in common, and suddenly the message to girls to "Make the Connection," as the earliest campaigns told them, was everywhere.
My mind raced to other ways sex, gender, and disease were tightly entangled, implicitly and explicitly. It was clear to me from the start that not only was the new HPV vaccine important in terms of STIs and cancer prevention, but it was also distinct for the ways in which this medical technology was taking on a gendered focus with age-specificities and a specific cancer focus. The research and development behind the vaccine, its rollout to the public, and the way it was marketed to girls was interesting and, I suspected, potentially consequential. I, like many, wanted to explore what would happen as sex, girls, and infectious disease prevention converged in this preventive approach. This original shaping of the public health message caught my attention—and held it for the next two decades as I explored how the original story evolved to include population groups like boys and men; other cancers, including anal and oral cancers; and other technologies and professionals who would become involved in the research, prevention, treatment, and care for those diseases.
How did HPV change the ways we think about cancer?
The HPV vaccine story is really the story of sexualizing cancer—the title of the book—which is not meant to be a loaded or persuasive term on my part. Rather, it's a way to frame an evolution of thought: how we went from thinking about cancer as relatively separate from STIs and sex, to bringing those ideas more fully together in a way that shapes individual lives and public health in the broadest sense. At the turn of the twenty-first century, the link between sex and cancer moved beyond the laboratories of medical researchers and concerns of the specific sub-groups and became centered within a proliferation of information, product markets, and healthcare settings. So much is being transformed as a result—everything from the Pap test long held to be routine for people with a cervix, to the availability and use of at-home self-sampling kits to detect HPV, to the preventive guidelines to screen for anal cancer, to the oncology office visit.
The story of sexualizing cancer is also meant to raise a question about the ways sexuality and its politics shape how and when this sex-disease association gets named and integrated into prevention and care. As a point of contrast, when the HPV vaccine was promoted for girls as a cancer vaccine, sex and STIs were relatively silenced, yet today when a tech company sells detection kits for HPV screening online, they are explicitly promoted as an on-demand, personal STI screen. What do these differences tell us about culture and about how to best address the public's health? My contention is that HPV and HPV vaccines are changing how we think about cervical as well as other cancers, such as anal and certain oral cancers, that were seldom spoken about. There is an opportunity for HPV to also change how we think about and teach about sex and sexuality—that is, not exclusively in terms of risk, but as linked with pleasure and care.
One theme your book illustrates is that narratives about diseases have profound consequences for people's lives and medical care. What are some of the initial narratives about HPV and how did those narratives impact screening and treatment?
As a science studies scholar, I am trained to think about how science and society are mutually shaping. We know that when diseases become gendered, racialized, classed, or sexualized in particular ways, medicine and the public health establishment not only talk about them differently, but they also fund research, promote services, and provide care differently, often funneling resources to particular people and communities based on previously-shaped assumptions. Whether seemingly made out of practical necessity (such as legal and policy or regulatory constraints), or less pragmatically driven, health prevention and care reflect histories of inequalities in medicine and of society more broadly.
In the case of the HPV vaccine, narratives about preadolescent girls being the members of society responsible for HPV vaccination and, more distally, cervical cancer prevention strongly echoed longstanding histories of girls and women as responsible for health more broadly—not just their own but the health of families and society as well. This gendering has created—and justified—gender dynamics that presume the role of care, nurturing, and responsibility for girls and women, and prevent these groups as well as all genders from thriving in other ways. As advertisements for the HPV vaccine filled the airwaves, everyone, especially politicians, seemed to have something to say about the place of girls and sex and health in our culture. Not only were the presumed recipients of the vaccine gendered, but quickly the vaccine itself became a gendered technology as a "girls' vaccine." These decisions complicated health care later when the vaccine was shown to be effective for all genders. While an early "sex-panic" faded, getting health providers, parents, and boys and men to get the vaccine has been a harder sell. Additionally, and this change is perhaps less apparent because it is already part of medical care, screening tests, most notably the Pap test, needed to undergo a re-gendering as screening for human papillomavirus gradually became a widespread approach for anal cancer prevention.
How did health practitioners and pharmaceutical companies contribute to this narrative?
Due to the power of corporate reach, pharmaceutical companies like Merck and Co.—the maker of Gardasil, the HPV vaccine most available in the United States—assumed responsibility for educating publics, including health care professionals, about the vaccine as they strategized about how to market it. This put them squarely at the center of this narrative-making of a "cancer vaccine." Today, this "pharmaceuticalization of public health" is evidenced as Merck tells its consumers to "get versed" and become one less person with cancer.
Pharmaceutical companies are only one part of a larger picture I tell in this book. Healthcare actors and social movements have always contested some narratives while constructing their own—Sexualizing Cancer also tells the story of some of these histories, which pre-date and in many ways shaped the release and response to the HPV vaccine. One is the story of HIV and the ways this virus brought many practitioners into healthcare movements to ensure non-discrimination and well-funded research agendas for what is now LGBTQ health. The HIV virus and its manifestation into AIDS was also gendered and sexualized in ways that were largely shaped by prior politics of discrimination. An early construction of HIV as the province of men who have sex with men not only shaped the politics that unfolded around health care rights and justice, but also rendered women, transgender, and non-binary people, and their health manifestations and needs invisible. This de facto erasure was a kind of inversion of the way boys and men and other cancers associated with HPV, notably anal cancer, were centered by some healthcare providers while being relatively muted in marketing and promotion campaigns. My goal was to show this larger picture and bring these voices and histories into the story of HPV.
The rollout of the COVID-19 vaccines in 2021 prompted public discussion about health equity and access to this preventative measure. What equity questions surrounded the rollout of the HPV vaccine? As a medical sociologist who is interested in justice, public health, and the politics of sexuality, what questions do you ask when new vaccines and medical treatments become available?
The rollout of the HPV vaccine followed the usual patterns of pharmaceutical products and the presumption of a return on their investment in research and development. Early patents were secured, and early adoption focusing on sales to high-income health providers, countries, and patients shaped the marketing and promotion we saw in the US—with the express design of achieving the commercial results the pharmaceutical companies wanted. In contrast, the public health and equity questions that need to be asked whenever medical products are concerned are simply: where is the need greatest, and what are the obstacles—social, structural, political, economic, as well as medical—to meet that need without over surveilling or medicalizing some more than others? Questions of equity specific to vaccine rollout include asking where disease disparities reside, where health care and its access are most limited, and where discrimination, inequality, or poverty are most prevalent. The answers to these questions are similar for any preventive approach, including the HPV vaccine, and if asked early would direct social changes to ensure a vaccine reaches as many of those people who have persistently been left out of care as possible. In the case of HPV-cervical cancer, cervical cancer is a disease that is most prevalent for people who lack health care access, and the routine screening of Pap tests has effectively reduced this cancer in high-income settings. As HPV vaccine targets are broadened to include more groups of people and cancers, equity decisions will grow more complex and may become more achievable.  
I want to ensure that sex and sexuality are neither silenced nor sanitized but are part of an intersectional approach to ensuring that when new vaccines and treatments become available they are part of an equity plan. When Mpox emerged in the US over the summer of 2022, for example, I thought about equity as the vaccine, which was in limited supply, was rushed in to solve the problem. While we did not see homophobia take hold, unfortunately, we did see similar patterns of structural inequities in global public health. The Mpox virus has a long history and is endemic in other places of the world where it affects households and where the vaccine can protect caregivers and prevent further spread. As higher-income places saw cases emerge, the framing of this as an emergency and as something that affects gay men mobilized a group that understands the stakes. Organization was robust, and the vaccine was distributed rapidly throughout various, mostly urban, gay communities. These groups were quick to act and, as the vaccine was made available, able to suppress the virus' spread. The success was largely due to the sophistication and history of the gay community in identifying and responding to disease risk and to a now-established LGBTQ health infrastructure. Yet in terms of equity, in many ways, it also was distributed to those who are structurally well positioned in wealthier hospitals and neighborhoods.
---
Laura Mamo is professor in the Health Equity Institute at the San Francisco State University. She is the author of Queering Reproduction: Achieving Pregnancy in the Age of Technoscience, coauthor of Living Green: Communities that Sustain, and coeditor of Biomedicalization Studies: Technoscience and Transformations of Health, Illness, and U.S. Biomedicine.
Sexualizing Cancer is available now from our website or your favorite bookseller.