I grew up in the Chicago suburb of Elmhurst. When my oldest sister moved to Chicago, she took it upon herself to expose her baby sister to the Chicago architecture and art scene: the Old Town Art Fair, the lakefront, the Chicago Cultural Center, The Art Institute of Chicago, and beyond. I knew then that I'd live in Chicago someday. 
What I didn't know is that I'd be blind by the time I made that move. In 1985, I was diagnosed with a rare eye disease called retinopathy. Efforts to save my eyesight failed. I've been totally blind ever since. 
I learned to use speech software on my computer and took to writing. In 2003, my husband and I moved to Chicago. We reasoned that a big city would provide us with opportunities to promote my writing and the public transportation system would make it easy for me to get around independently. 
And we were right. I do get around, and thanks to my oldest sister, I can sometimes picture where I'm going.
Here are some of my favorite spots to frequent in Chicago, complete with my assessments on their accessibility for people who are blind or have visual impairments. 
Goodman Theatre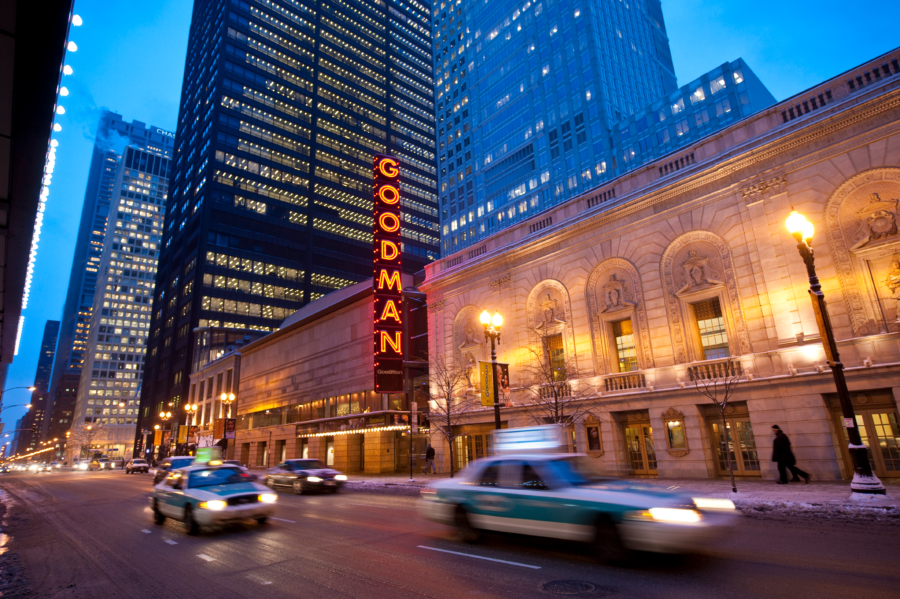 Most people know about Chicago's lively theatre scene, but few know that many Chicago theatres make their productions accessible to people with disabilities. The Chicago Cultural Access Coalition maintains a calendar of theatres that offer enhanced productions for people with disabilities.
Steppenwolf Theater in Lincoln Park, Goodman Theatre in the Loop, Chicago Shakespeare Theater on Navy Pier, and Court Theater in Hyde Park have been offering accessible performances for years, and many smaller theatres in Chicago are giving it a try now, too.
I like them all, but I go to Goodman Theatre the most. The Goodman offers an audio-described performance for each of its regular season productions, when patrons who are blind and/or have low vision receive a headset that lets them listen to a description of the performance while still hearing the actors speak.
The Goodman Theatre also offers touch tours on the day of each audio-described performance. These pre-show presentations include thorough descriptions of the set, costumes, and more so that patrons can picture the performance and characters.
Accessibility tips: Goodman Theatre has a staff member stand outside on audio/touch tour days to assure that you're at the right place. The theatre also features a step-free entrance and a staff member will guide you to an available chair. Large print and Braille programs are available. Tickets to audio-described performances are sold at a discount to people who are blind or visually impaired.
Green Mill Jazz Club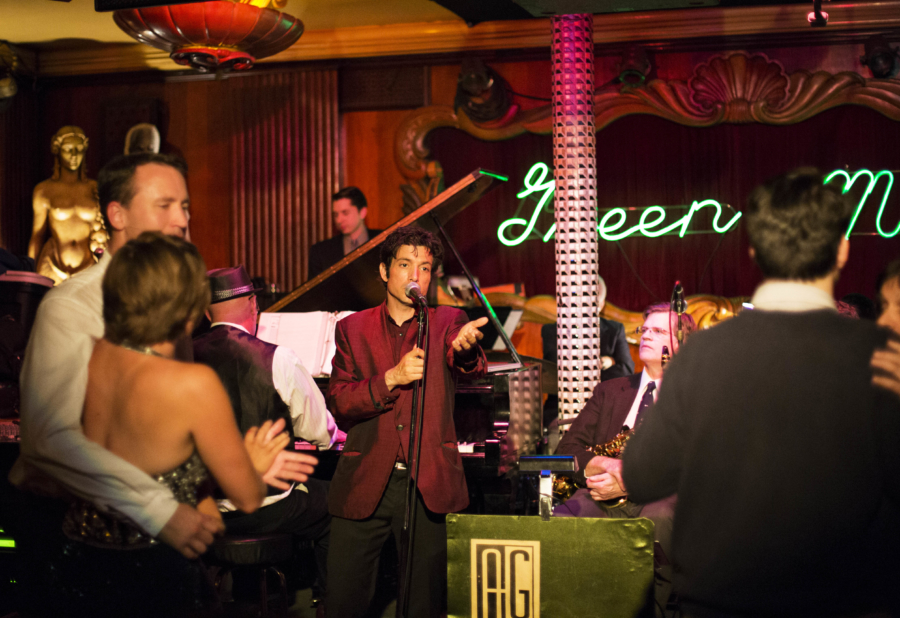 The oldest jazz club in the United States, Green Mill opened in Chicago's Uptown neighborhood in 1907 and features live music seven nights a week. Cover charges vary depending on the act, but I keep it simple by going to hear Chris Foreman on Fridays when there is no cover charge at all. 
A Chicago music legend, Chris Foreman has been playing weekly at Green Mill since 2003. I like to find a seat at the bar close enough to Chris to hear him talking with people in the audience while simultaneously playing the jazz tunes that keep the regulars coming back week after week.
Accessibility tips: One thing I forgot to tell you: Chris Foreman is blind! He's been playing at Green Mill so long that staff members and friendly regulars there are well aware of what sort of help a person with visual impairments might need. The room is often full by the time the show starts at 5 p.m., so you might want to get there early to get a good seat. Make sure to bring an ID card with you, you must be 21 years old to enter. Bring cash, the bar does not accept credit cards. 
Printers Row Wine Bar and Shop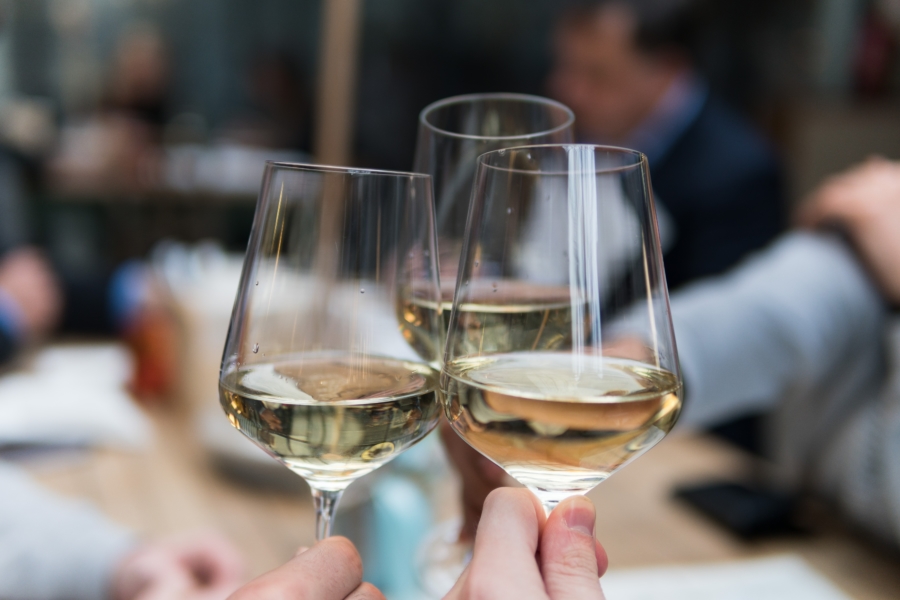 Head on down to the South Loop to enjoy a friendly wine bar and retailer in the heart of Chicago's historic Printers Row. The place is relaxed, not at all stuffy, and personable staff members are happy to answer any questions and help you find just the right wine, craft beer, and spirits that you can take to go or enjoy at the shop.  
Snacks and small plates are available — I recommend the pretzel bites, and you can't go wrong ordering a cheese board. The drink menu changes from time to time, but don't worry: staff members are happy to talk you through the artisanal wines, local craft beer, and small-batch spirits available that day. 
Accessibility tips: The music they play at Printers Row Wine Bar is at a volume low enough to hold a conversation, and, most importantly, to hear your server announce your order and its placement when they set it down, as in "pretzel bites right in front of you" or "Cabernet on your left." A simple gesture, yes, but very helpful. 
The bar and shop are small enough that it only has one spacious public restroom in the back. No need to feel around for a stall, the toilet and sink are easy to find at the back of the washroom, and you can lock the door by pushing a button on the inside door handle. 
Japanese Garden at Jackson Park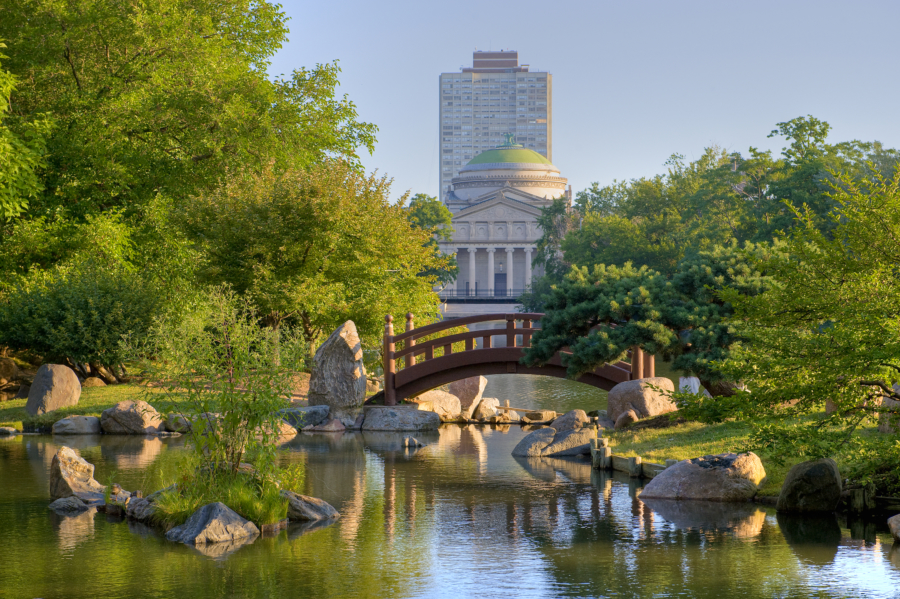 Osaka Garden (also known as The Garden of the Phoenix) is a hidden gem tucked away in Jackson Park, an expansive park stretching along the south shore of Lake Michigan. A gift from Japan for the World's Columbian Exhibition in 1893, the perfectly manicured garden sits in Jackson Park right behind the Museum of Science and Industry. The fragrance from the flowers, the sounds of the garden's waterfall…it all combines to give you a break from the hustle and bustle of the city. 
My favorite part of the Japanese Garden is a huge sculpture called Sky Landing, which sits right outside the garden's perimeter. Inspired by the lotus flower, Sky Landing is composed of a dozen 12-foot stainless steel lotus petals. A symbol of peace, Sky Landing is meant to be healing, and the sculptor of Sky Landing is someone you may have heard of before: Yoko Ono!
Accessibility tips: The trail leading to the Japanese Garden is smooth and pretty easy to traverse with a white cane or a guide dog, but once you get there the terrain is rocky and rugged in places. Step carefully!
Harold Washington Library Center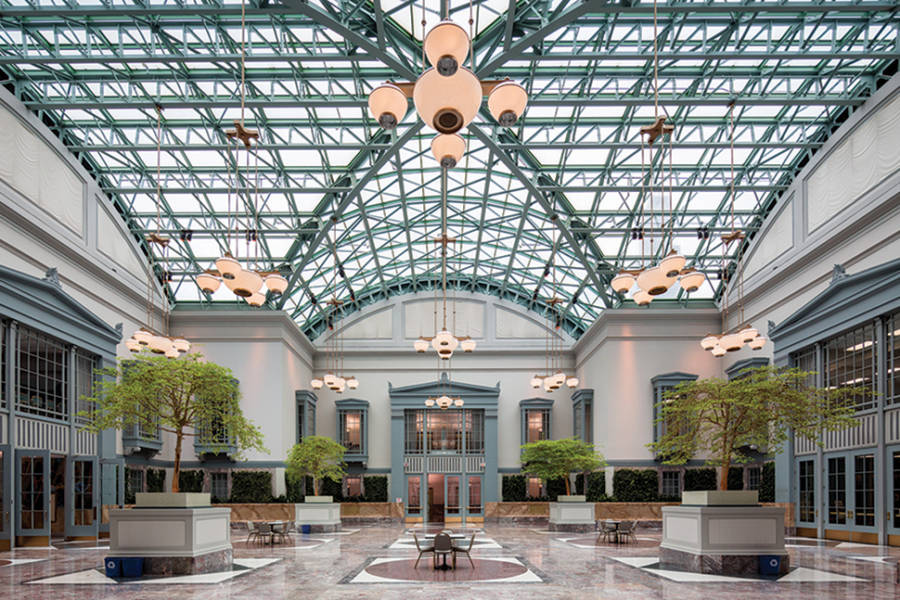 Located on South State Street, the Harold Washington Library is more than just a library. Sure, it houses approximately two million books, but it also offers a Maker Lab, Study Rooms, the Cindy Pritzker Auditorium for free workshops and lectures, and, get this: music practice rooms!
Hidden away on the eighth floor of the library center is one chamber rehearsal room complete with a grand piano, and six other practice rooms furnished with an upright piano. I play piano (not professionally, just for fun), and you could find me in one of those music practice rooms every other day during our first year in Chicago.
Musicians of all ages and skill levels are welcome. Music practice rooms are offered free of charge on a first-come, first-served basis with an ID.
Accessibility tips: Enter Harold Washington Library Center on State Street or Plymouth Court, where security guards can help you find your way.
The Harold Washington Library Center is also home to Chicago's Assistive Resources and Talking Book Center (ARTBC). Librarians and readers advisors are available at ARTBC's fifth floor north office to assist patrons who are blind or visually impaired with materials selection and provide referrals and information about access to books and magazines in braille or audio. Technology workstations in the ARTBC office are equipped with software and devices designed for individuals with visual, physical, and auditory disabilities.