Thanks to the convenient transit from Windy City's center, Chicago's O'Hare International Airport is always packed with people ready for a break from the treacherous winters or a getaway to visit their families across state lines. As we know, nobody can start a flight with an empty stomach. Thankfully, O'Hare has plenty of restaurants across its five terminals. So, park your suitcase at our favorite places to eat in O'Hare and get ready for whatever mayhem, delays, and type of flight is about to come your way.
Terminal 1, Concourse C, Gate C18 
If you pull up to O'Hare International Airport and are craving a big cheeseburger, the legendary Billy Goat Tavern will be your savior. This classic Chicago stop has locations all around the city, but did you know their delicious food is also available where you need it most: the airport?
In addition to burgers, Billy Goat Tavern also offers sandwiches featuring ribeye steak, grilled chicken, and corned beef. Whether you're looking for a single, double, triple, or home-run style burger, Billy Goat Tavern is here to satisfy your cravings so you can jet-set to your next glamorous vacation (or your 1-hour flight to Des Moines, but who cares?).
Terminal 3, Concourse K, Gate K4
Burritos, tacos, quesadillas, nachos – there are so many options to explore when you stop at Burrito Beach. When you have a long flight coming up, the last thing you want to do is step on the plane with an empty stomach, only to be left longing for snacks that may or may not be offered mid-flight. A trip to Burrito Beach while you wait for your boarding group to be called is just what you need. Being able to pick your base and then load your meal up with your favorite toppings like creamy goat cheese and black beans, spicy buffalo chicken, and tangy grilled vegetables is quite possibly one of the best ways to say bon-voyage to the city. 
Terminal 1, Concourse B, Gate B14 
Okay, let's be honest. Is there anything more iconic than an airport Chili's? No. That's why at some point in your traveling life, it's essential that you take a stop into Chili's Too. Being one of the busiest airports in the world, it can only be assumed that the Chili's Too at O'Hare is top-notch excellence. You might be thinking "I like Chili's but I don't think they have all the same offerings", and you'd be wrong. Ice Cold Presidente Margaritas? Yup. Big Mouth Burgers? Absolutely. You truly cannot go wrong with a stop to Chili's Too.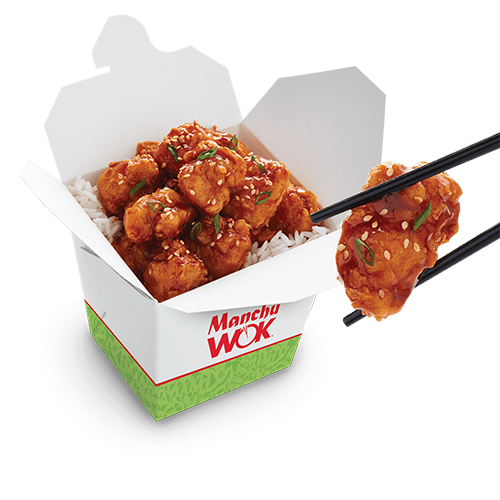 Terminal 3, Concourse H, Gate H5
People in airports tend to be one of three things: late, stressed, or hungover. In Chicago, we're not unique to that, and if you're walking around O'Hare scouring the terminals for some food to (hopefully) cure your hangover, look no further than Manchu Wok. With tons of Asian food choices like black pepper chicken, Shanghai noodles, and sweet and sour pork, any combination of entrees will be piled high in your dish ready to be devoured. So next time you book an "8 AM, but I think I'll be fine to go out the night before" flight, you can do your thing knowing the delicious dishes of Manchu Wok have your back.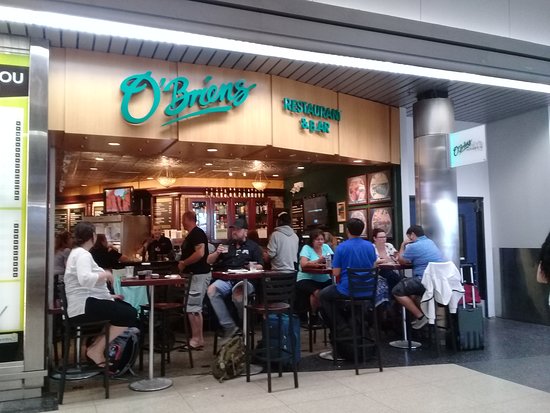 Terminal 3, Concourse H, Gate H4
When looking for a more traditional sit-down restaurant before your flight, check out O'Brien's at O'Hare International Airport. You know this restaurant from their location in Old Town and seasonally along the Riverwalk, and their O'Hare location certainly doesn't disappoint. With menu options like Cesar salad with steak, the charbroiled black angus burger, and fresh deli sandwiches, your time to chill before takeoff will leave you stuffing your face with fresh food.
Terminal 2, Main Hall 
Sandwiches, salads, burgers, and breakfast. A quick trip to Summer House Santa Monica will meet your hunger needs no matter what time of the day. If you can think of the good vibes and beachy feel of Summer House on Halsted, just imagine the very same restaurant shrunk down a bit and dropped into one of the more stressful places you can think of. If you're looking for a crisp, refreshing glass of rosé before a flight, this is also a great option. For those who might be concerned about missing your boarding time, Summer House Santa Monica also offers a selection of items in their grab & go case.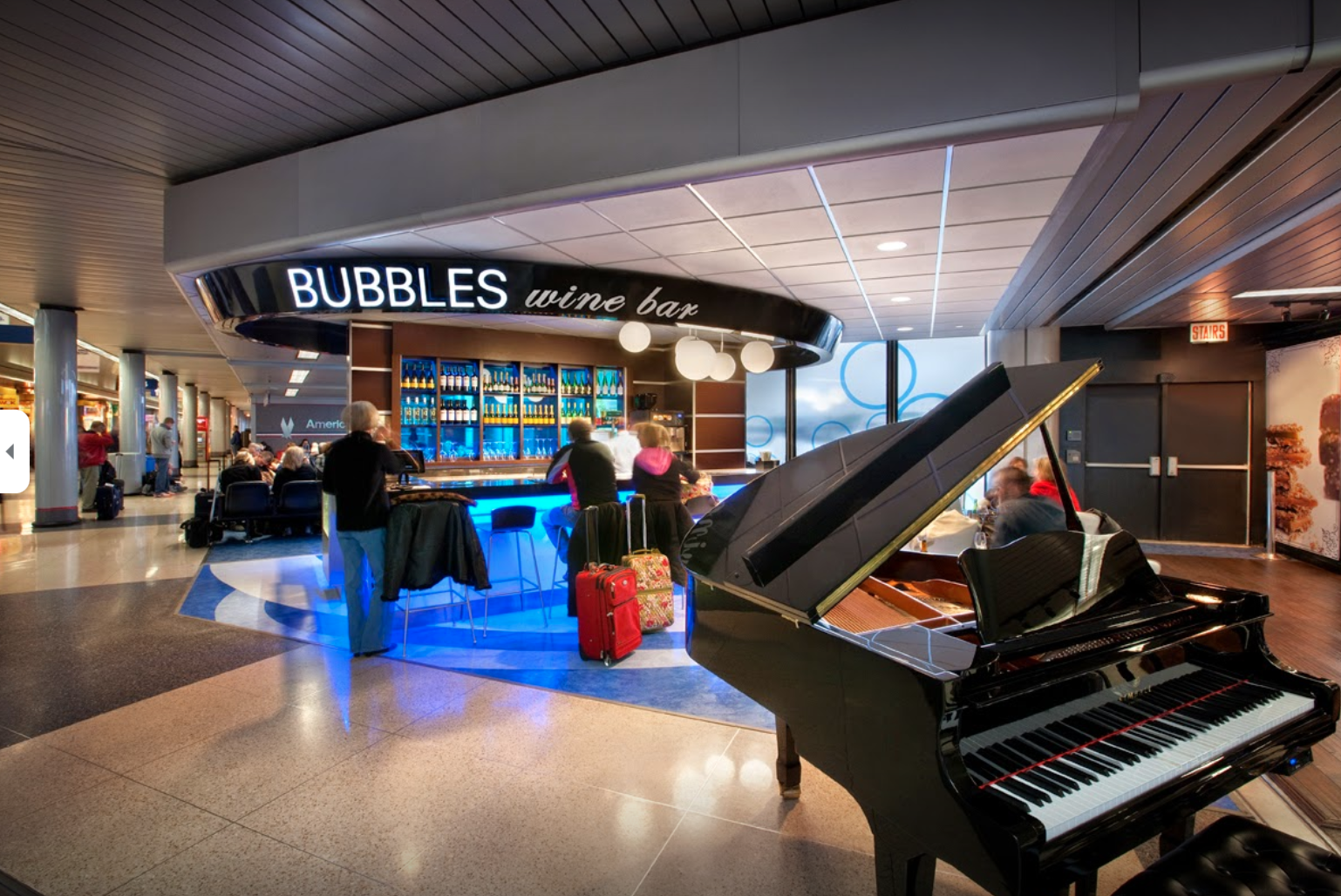 Terminal 3, Concourse H, Gate H4
If you're anything like me, then, the thought of being confined in a metal tube in the sky really won't sit well with you. So, thank goodness you can always relax with a good glass of bubbly. If you're looking to sip away your stress, Bubbles Wine Bar allows you to do it in style. With an expansive wine list featuring some popular options like Kim Crawford and Chateau St. Michele (a personal favorite), craft cocktails, and small plates to nibble on, Bubbles Wine Bar is an excellent choice to make a pit stop in the middle of O'Hare. 
Featured Image: O'Hare International Airport