Tangy, spicy, and sweet. Orange chicken is a Chinese-cuisine staple perfect for any time of the year, and has remained one of the most favored Chinese dishes since its invention in 1987 by Panda Express Exec. Chef Andy Kao. But not all are cooked the same. So, if you want to get the best orange chicken in Chicago, not the over-flavored, over-breaded, or undercooked crap, check out these spots hand-picked by our foodie editors. 
769 W Jackson Blvd, Chicago, IL 60661
225 W Cermak Rd, Chicago, IL 60616
Orange chicken at Xi'An Cuisine is one of our favorites. As one of the most authentic Chinese restaurants in town, they surprisingly have a great handle on the American-Chinese cuisine too. Choosing either Xi'An location for a plate of fresh, fried to order, crispy orange chicken with the perfect amount of breading. Pair it with some of their homemade crab rangoon for the perfect Chinese meal.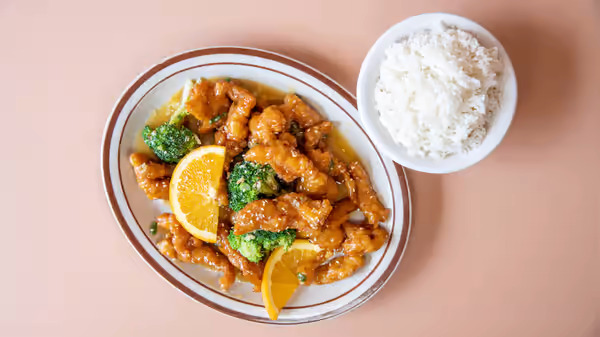 3203 N Clark St, Chicago, IL 60657
Blink and you'll miss it. The best spots for classic dishes are often the ones that are a bit tricky to find. That's exactly the case with Bamboo Garden. Located on Clark Street in Lake View East, this Chinese restaurant has all the classic dishes like egg fu young, moo shoo pork, and of course, orange chicken. We love the fresh citrus scent in their Orange Chicken, which isn't always a thing with other restaurants.
All locations
With five locations across Chicagoland (Roscoe Village, Evanston, Chinatown, UIC, and Naperville), a trip to Joy Yee for orange chicken is a no brainer. And don't forget to explore their full menu, too. By combining dishes and flavors from across Asia, Joy Yee has cultivated a broad menu with complementing tastes, and a friendly atmosphere to enjoy it all. PS: Joy Yee is also known for their delicious bubble teas.
4131 N Rockwell St, Chicago, IL 60618
Dai Yee's in Horner Park is the closes you can get to homemade Chinese food. Their orange chicken is undoubtedly one of the best in town. With light bedding and homemade sauce, you just can't replicate its flavor anywhere else. Since they fry with vegetable oil, you won't get that sluggish, stuffed feeling from the breaded chicken bites at all.
All locations
MingHin Cuisine is a critically acclaimed spot to for delicious Chinese fare, and literally every Chicagoan knows that. MingHin's recommendations and honors came far and wide, including Chicago food bloggers and Eater Chicago. With locations in four Chicago neighborhoods, their delicious food, including tangy orange chicken, is available essentially wherever you are. The spaces are trendy with lively atmospheres, and patios in Chinatown and Streeterville for the perfect summer dining experience.
2545 N Halsted St, Chicago, IL 60614
1300 N Milwaukee Ave, Chicago, IL 60622
Fried rice, hot and sour soup, and of course, orange chicken. The immense menu at Chengdu Impression across two iconic Chicago neighborhoods (Lincoln Park and Wicker Park) will always keep you coming back for more. With a focus on Sichuan style Chinese cuisine, the food at Chengdu Impression is packed with flavors. With herbs and ingredients like garlic, chili peppers, and ginger, this spot brings a burst of zest to each dish served.
3144 N Broadway, Chicago, IL 60657
1950 W Division St, Chicago, IL 60622
For an upscale date night filled with tasty food at a trendy, romantic spot, Little Wok, with two locations, is your perfect spot. In both Lakeview and Wicker Park, the menu here has all the flavors of China, Japan, and Korea so you'll be satisfied no matter what you're craving. Along with the classics, LittleWok also has a lengthy, fresh menu of sushi, sashimi, and nigiri that pairs perfectly with their sake, soju, and creative cocktail menu. Stop in for your flavorful favorites or to try something new. 
Featured Image Credit: Unsplash