Need a break from the everyday hustle and bustle? A winter road trip may be in your forecast and we're here to help! Sneak away for a weekend — or heck, a whole week — in a cozy cabin surrounded by peace and nature. A little R&R never hurt anybody, so take a peek at our picks below for the 10 best cabins for a Chicago getaway.
If the city's more your vibe, check out our lists for the best Airbnbs and hotels for a staycation in Chicago.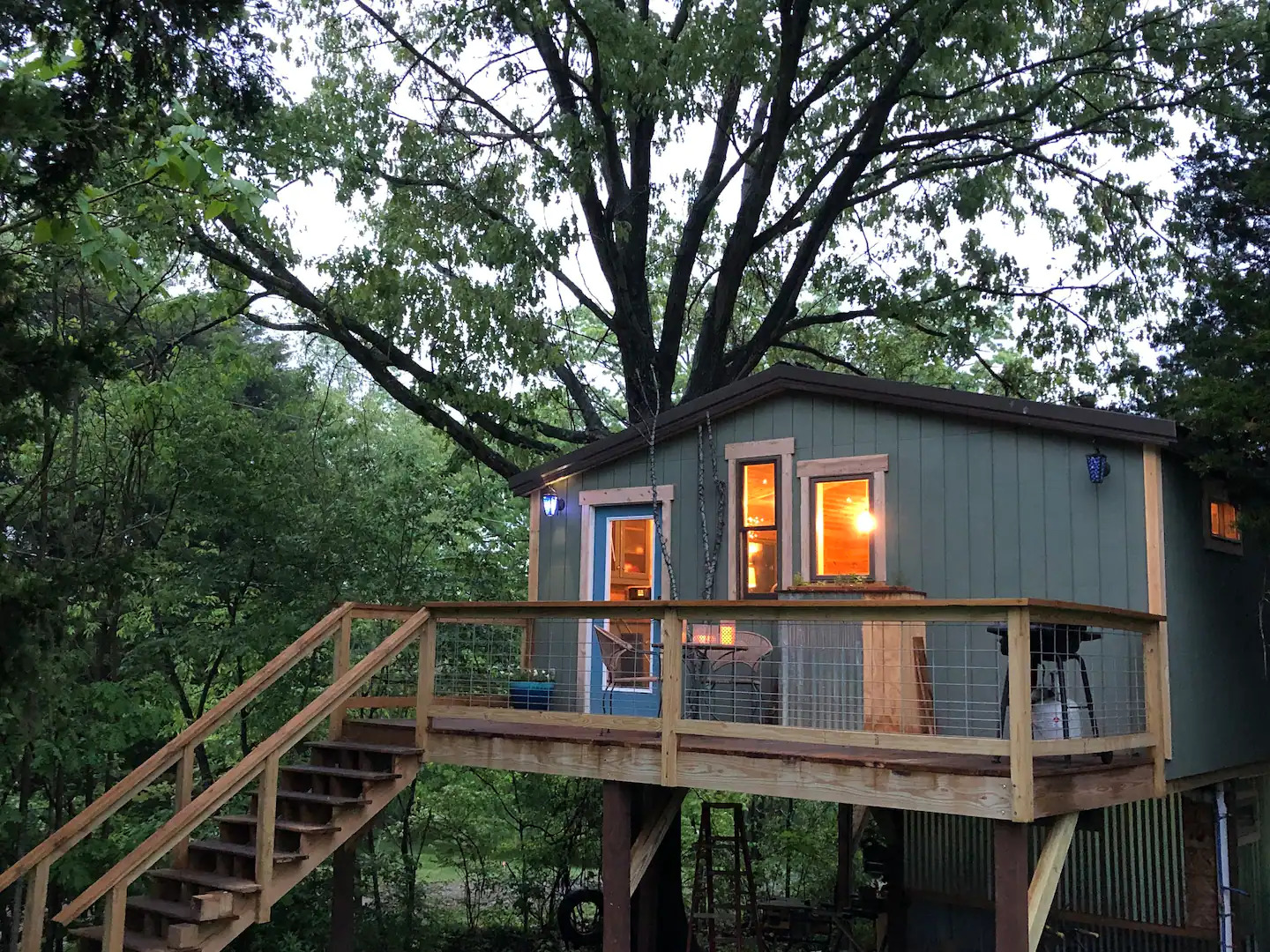 Goreville, IL
Nestled beneath an oak tree and two tall pines, the Jaybird Treehouse is a unique stay for up to six guests. There are two bedrooms, four beds, and one luxury bathroom with a rock path set in the floor. The queen bedroom is on the main floor and a trap door leads to downstairs with three twin beds. There's also a sofa bed in the living area, a full kitchen, and in-unit washer and dryer. 
Outside, you'll find a bucket pulley in the back deck that goes 20+ feet up, a large deck with a firepit, and even a hammock underneath the cabin — perfect for naps! For the adventurers, there's a canoe, kayak, paddleboat, a pair of mountain bikes, and fishing poles available to use.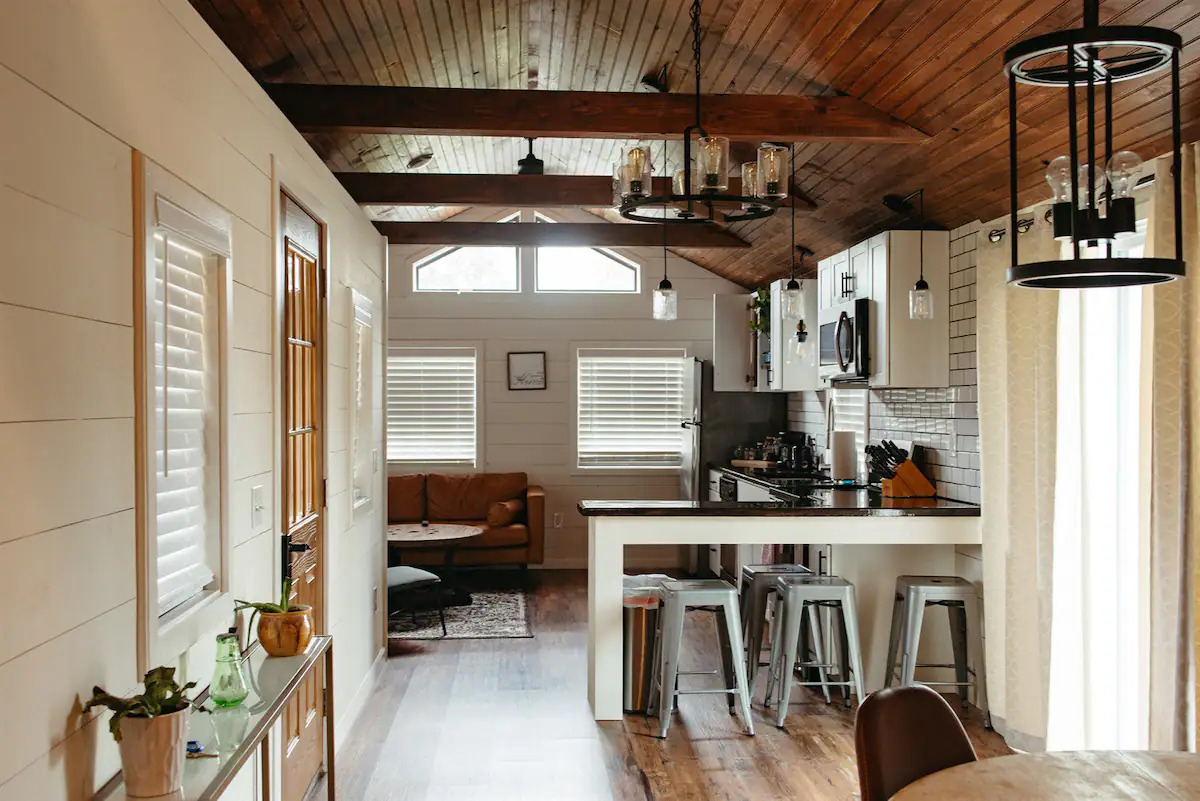 Marion, IL
Cabins don't all have one look. On the outside, this Airbnb may look like your typical cabin, but inside, it has a sleek and contemporary design. With 600 square feet of living space, this may be a micro cabin, but it's plenty spacious to house five guests. There's one queen bed, one twin sofa bed, and one floor mattress. 
A full kitchen, bathroom, washer and dryer, central heating, and smart TV make your stay more comfortable. The cabin also has a charcoal grill and furniture on the spacious deck as well as a fire pit by the pond right outside. You'll be less than 0.5 miles from the nearest boat ramp on Lake of Egypt and less than a 15-minute drive to local wineries.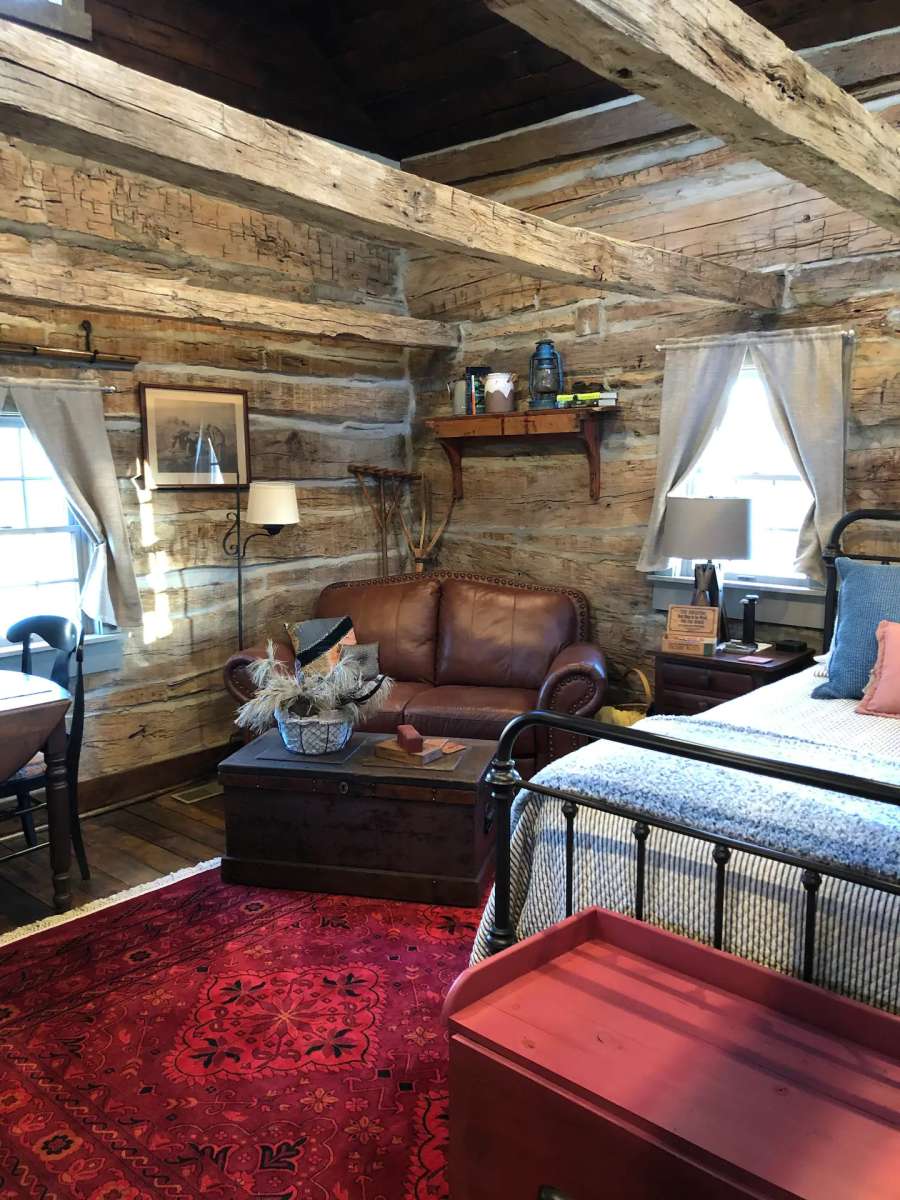 Virginia, IL
This is your quintessential cabin stay––an 1800's log cabin set on a bluff overlooking a beautiful lake. It has all the charms you'd expect in a log cabin like a fireplace, barn doors, rocking chairs, logs and wood throughout, as well as a gas grill, fire pit, and hammock outside. There are also modern luxuries like robes, a copper bathtub for two, WiFi, and a smart TV. 
The listing is for up to two guests and includes the entire cabin and private bathroom all to yourself. The property overlooks Virginia Lake and is on 80 acres of timber and water––perfect for hiking, fishing, watching wildlife, kayaking, or just relaxing. Due to the proximity to the lake and its potential dangers, children are not allowed.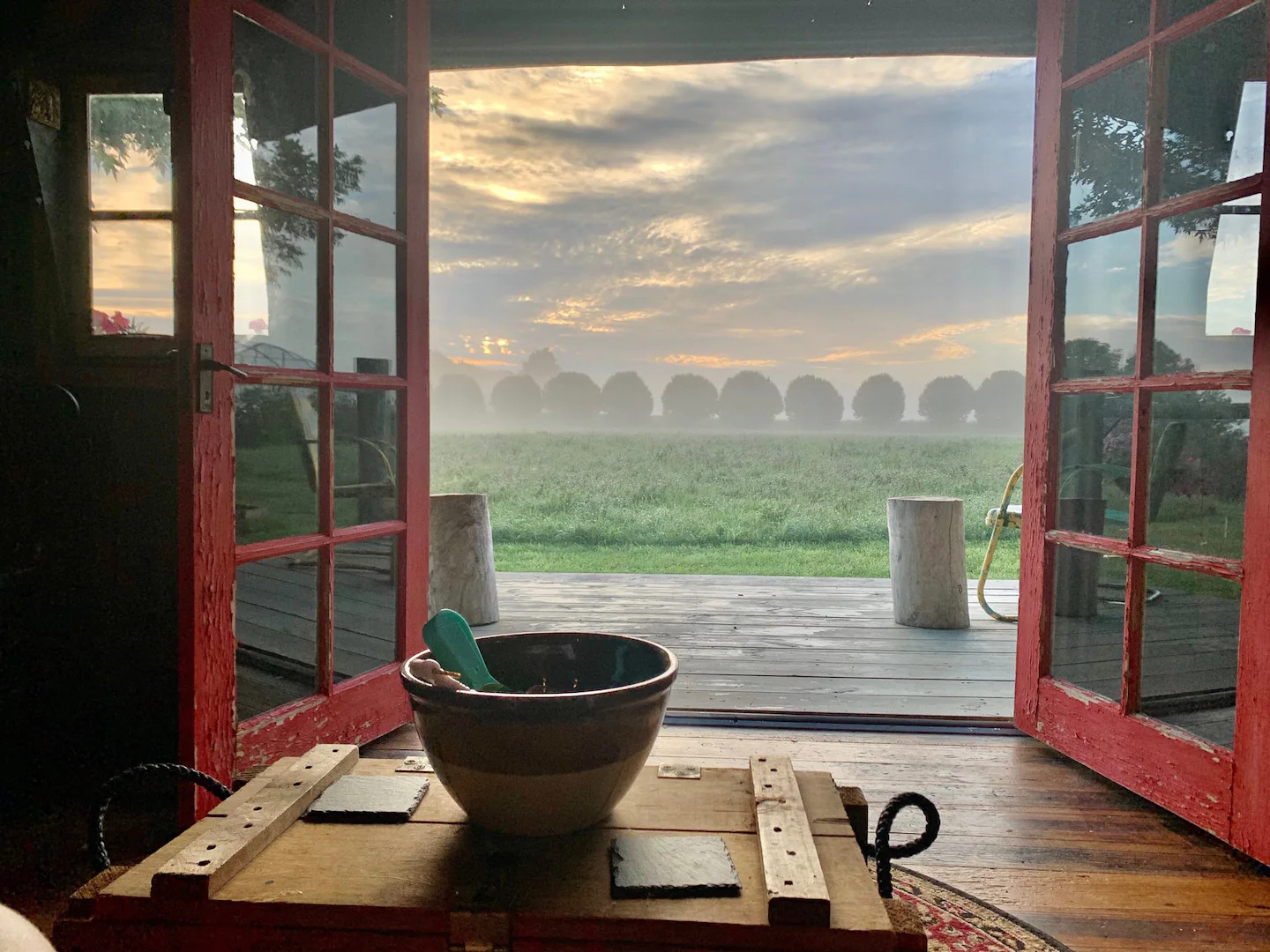 Normal, IL
Stay in a rustic cabin retreat surrounded by nature and farm animals. This cabin houses two guests and includes one bedroom with a queen bed. There's also a small refrigerator, microwave, coffee maker, and toaster. Bathroom facilities can be accessed a few steps from the cabin through a private entrance to the farmhouse. 
Your stay is at a working farm that's over a century old. You have access to all the farm surroundings, including a beautiful country view of the eastern pasture. Get all the fresh air you want and relax on the front porch, warm up by the small fire pit, and cook on the charcoal grill just outside the loft entrance.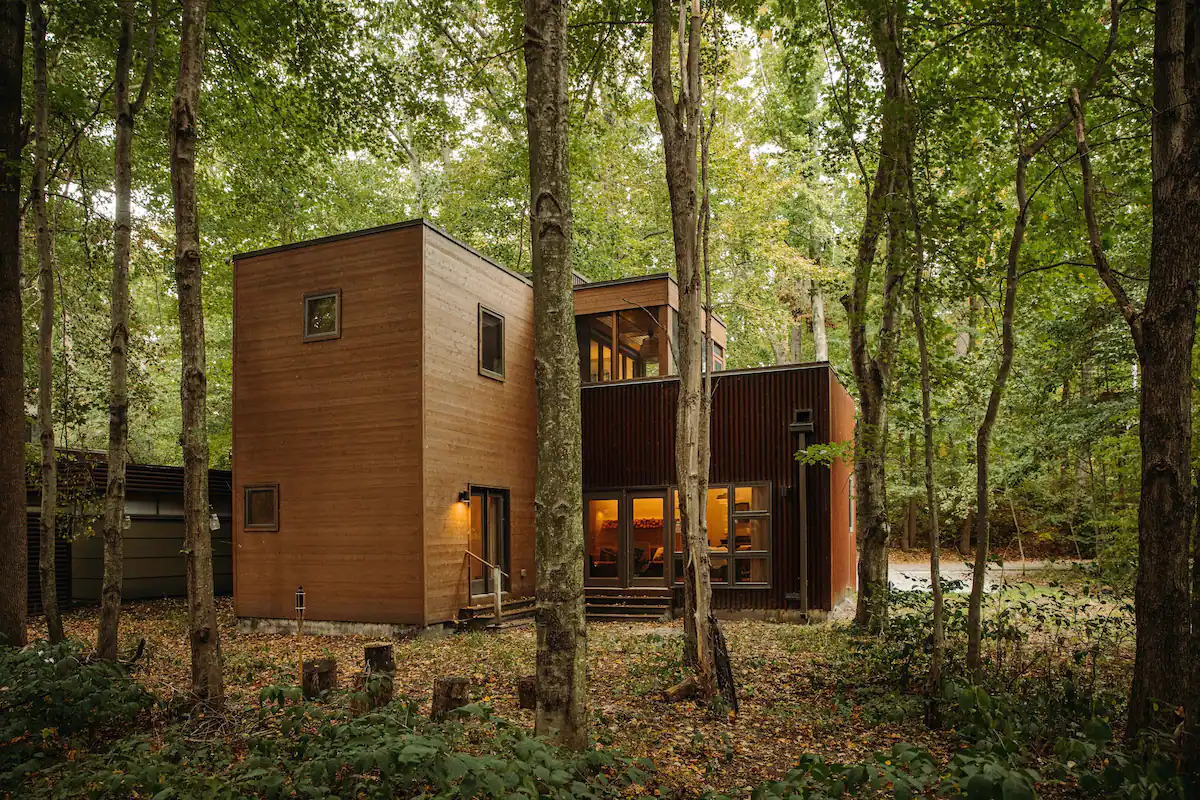 Michigan City, IN
This modern escape was featured in Time Out magazine in 2019-2020 as a "Top 10 Airbnb Rental in the Midwest" and part of its "Perfect Midwest Getaways" list. It's unlike any cabin in the woods you've ever seen. The two-story home is surrounded by more than 200 acres of woods, prairies, and meadows––it's the perfect getaway! 
The home has two bedrooms, seven beds, and two bathrooms, housing up to six guests. The beautiful design and unique setting makes this home ideal for those who appreciate nature, design, and architecture. The home also has a full kitchen, fireplace, washer and dryer, and two parking spots out front. Upstairs, you'll find a studio library that opens to a screened-in porch and open deck.
Your stay gives you access to the labyrinth, garden, meadows, prairies, ponds, and miles of marked trails at Tryon Farm. There's also a beach, wineries, and restaurants not far from the area.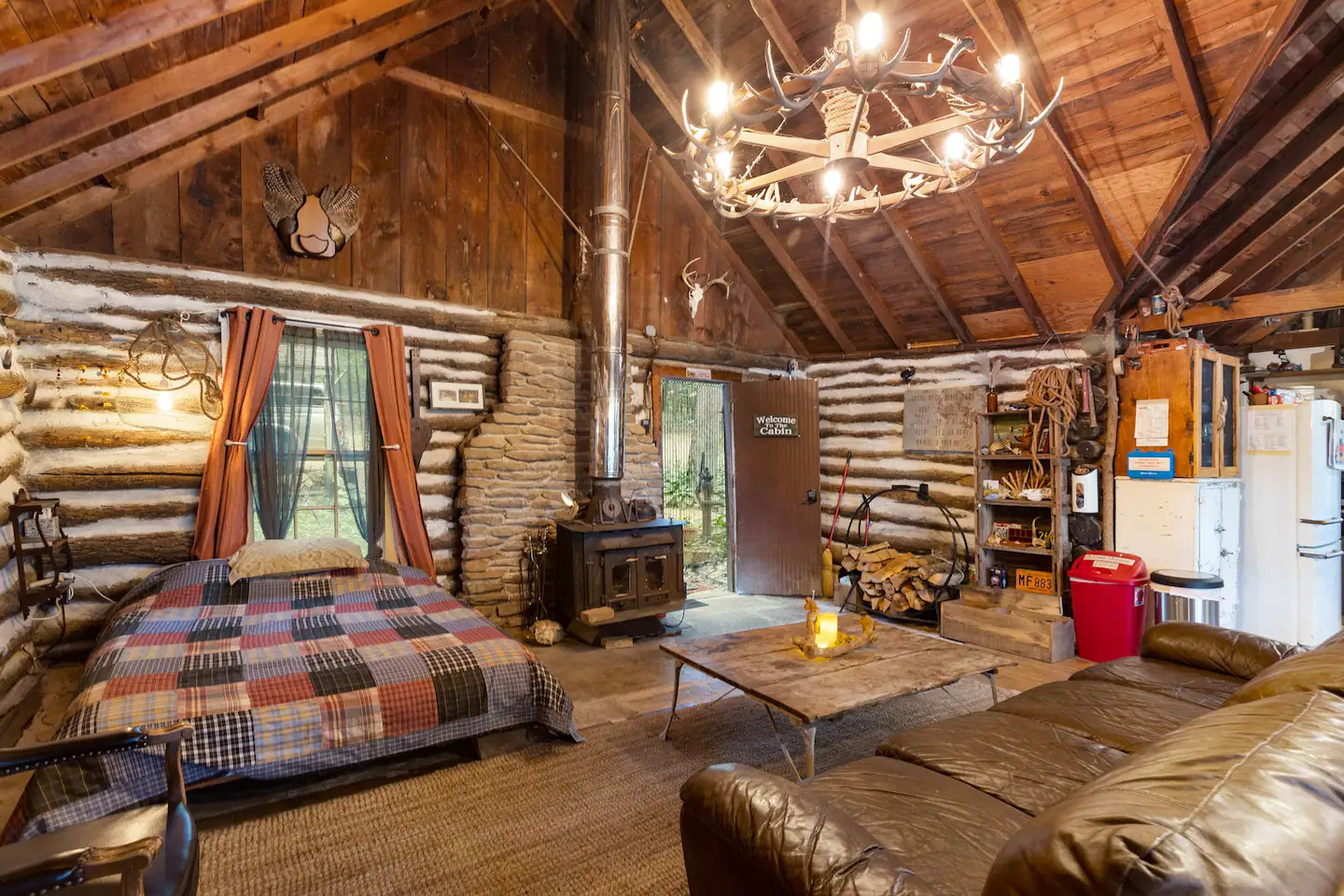 Oregon, IL
If you're planning a big group trip, Goose Island Cabin has space for up to eight guests and access to 100 acres of private land for plenty of fun group activities. Built in 1907, the cabin has a lot of history and is named after the small island just offshore. There's 200 ft of river frontage to enjoy, boating, a large yard with hammocks and games, fire pit, and a BBQ area. 
The cabin still has its "rustic charm" while updated with modern amenities like electricity, hot water, a bathroom, and kitchen. For sleeping, there's one bedroom, three queen/full beds, a long leather coach in the living room, two day beds by the windows, and cots or tents upon request. While secluded, the cabin is only 10 minutes from the town of Oregon.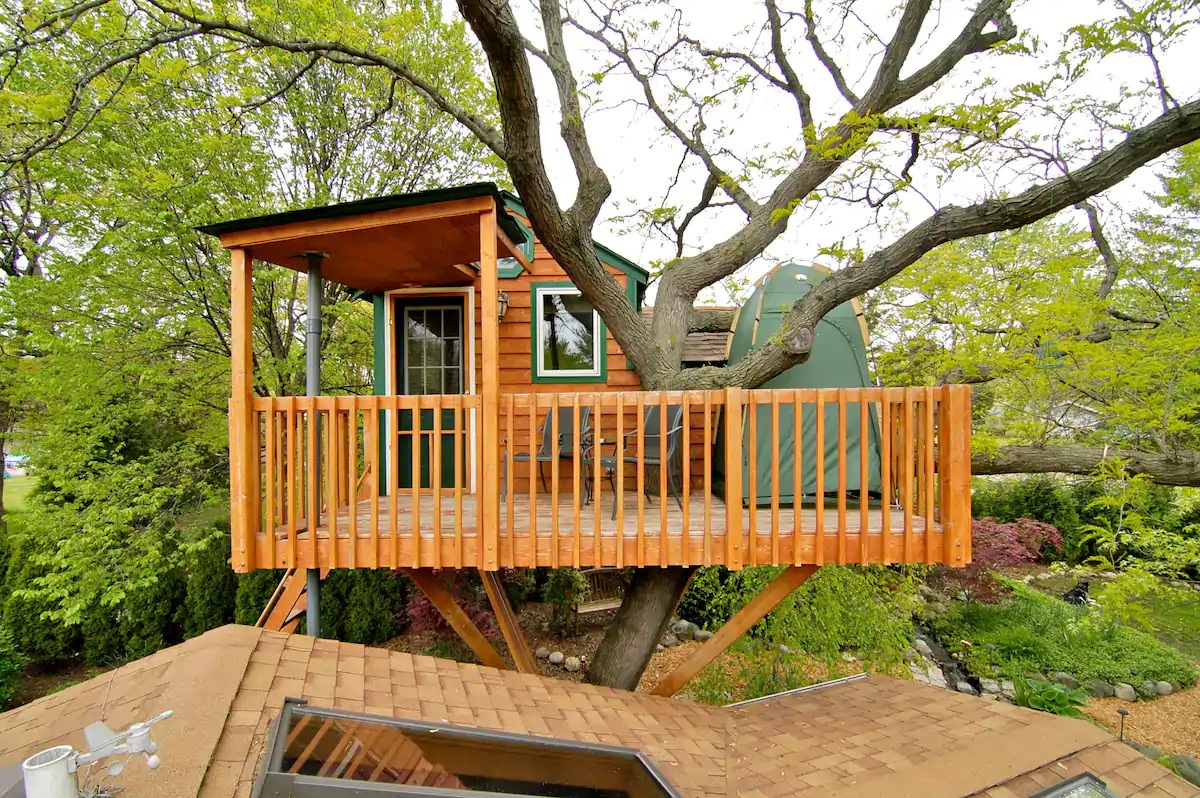 Schaumburg, IL
Have a mini getaway only a half hour-drive from Chicago! Sleep atop a tree 15 ft above a stunning Koi pond and serene waterfall. This cedar treehouse sleeps four guests and includes one bedroom, one double bed, and one single bed. 
Since this is an actual treehouse, there isn't a full bathroom. Guests can use the composting toilet in the tent on the treehouse deck. There's also a private outdoor shower below. The private entrance leads to a well-tended garden, cedar hot tub, and gas grill. Warm up in the four-person hot tub with the fire table blazing for true cozy vibes.
There's also a unique amenity for kids––a real Sioux teepee in the backyard just below the treehouse. Inside, you'll find two comfortably padded cots with faux sheep throws, lights, and a fake fire pit flame.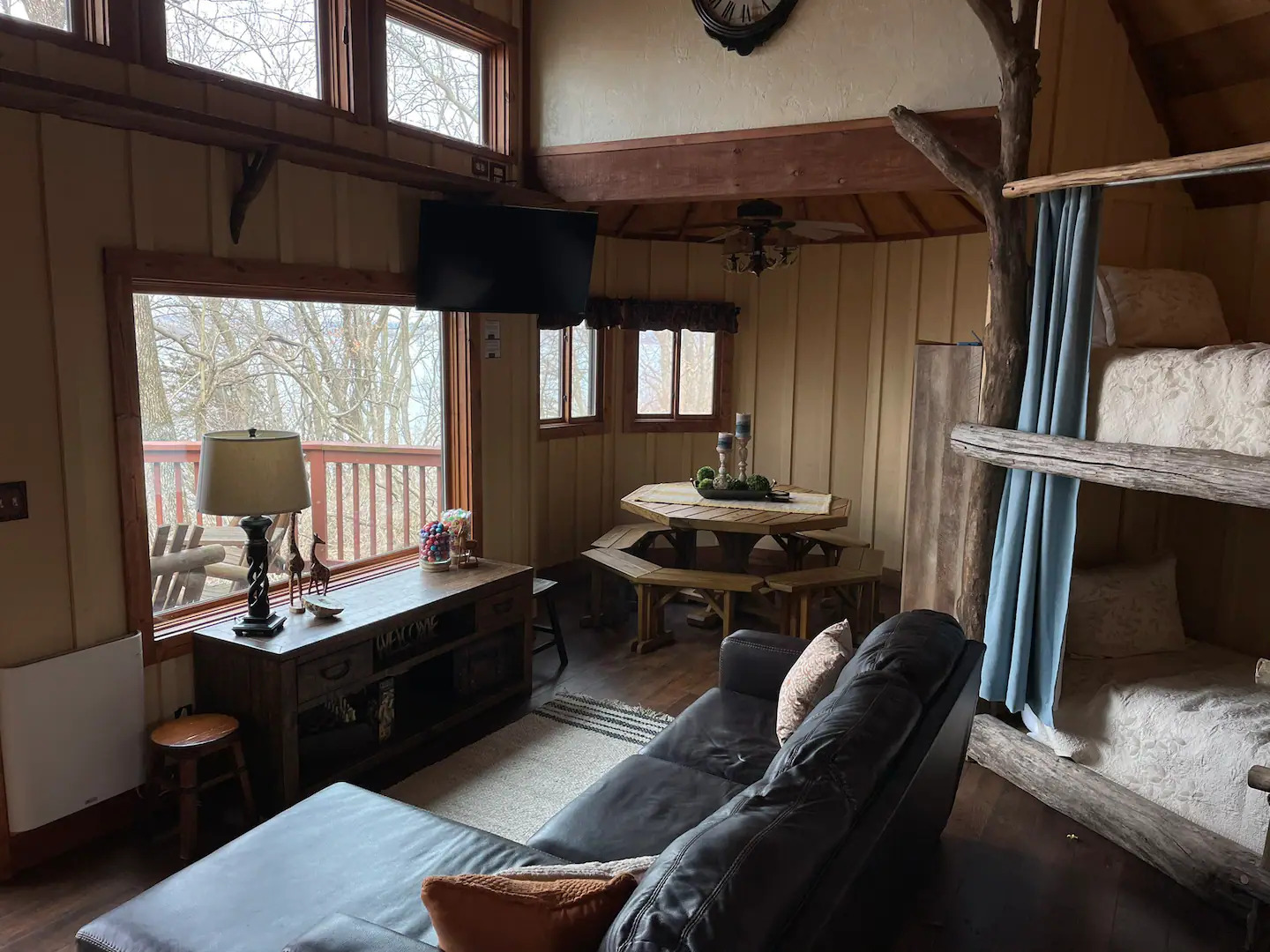 Nauvoo, IL
Stay in a charming green cabin off the banks of the Mississippi River and just north of the historic town of Nauvoo. The home sleeps up to eight guests and has two bedrooms, four beds, and one bathroom. There's also a full kitchen, upper deck, and washer and dryer. Enjoy views of the Mississippi River and woods from the deck in this cozy getaway.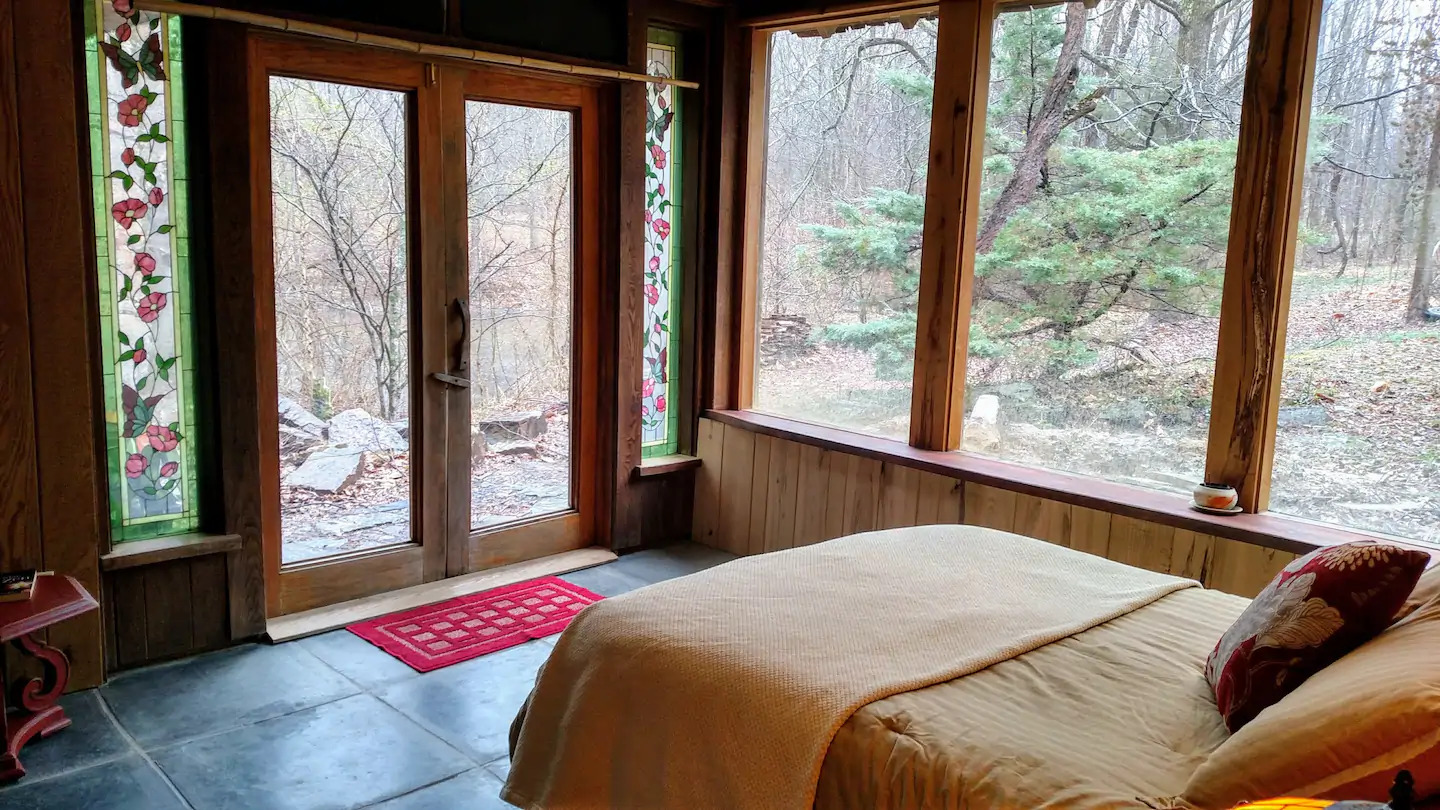 Cobden, IL
Eva's Roost is a great spot to kick it and relax. The zen-style cottage was designed to be close to the earth. The cabin's large, expansive windows give you a full experience of the nature surrounding you. Take in the forest, pond, stars, moon, sun, and wildlife around you and completely unwind and unplug.
The home is fit for up to two guests and has three beds and one bathroom in the studio space. There's a small kitchen for all your basic cooking needs and a sitting area as well. Outside, you can grill on the small Weber grill, bring your food over to the adirondack chairs, and warm up by the fire pit with views of the pond.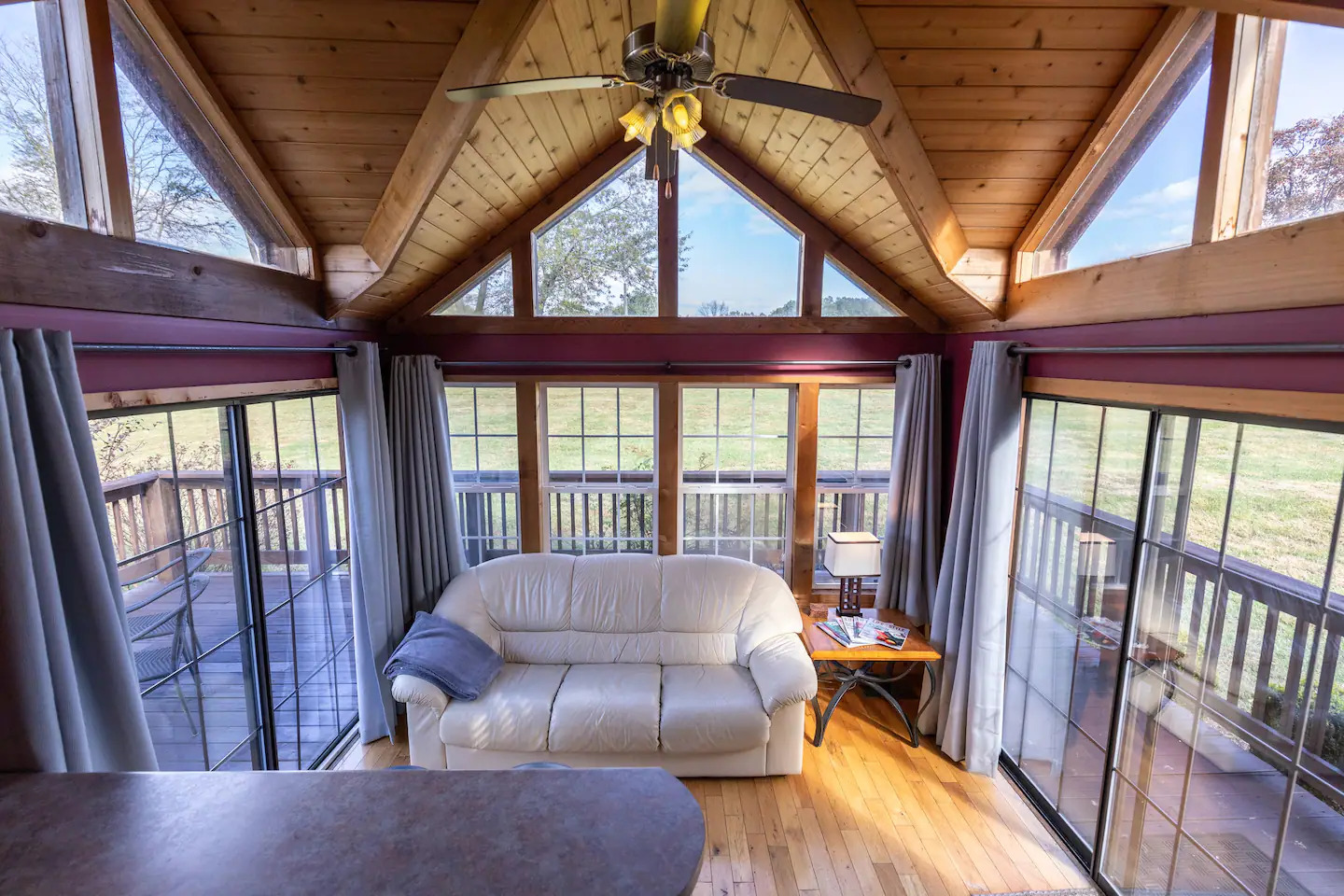 Cobden, IL
You deserve some R&R at this mini-mountain chalet surrounded by nature…and wine! Enjoy the outdoors at nearby rec areas, including the Trail of Tears State Forest, Giant City State Park, and Cedar Lake. You're also in the Wine Country of southern Illinois, where you'll be close to wineries like Hickory Ridge Vineyard and Winery and Pomona Winery
The chalet houses up to two guests and has one bedroom with one bed and one bathroom. There's also a full kitchen, free parking, and a surrounding deck to relax and unwind.
Featured Image Credit: Goose Island Cabin on Airbnb